Five Ways to Raise Workplace Wellbeing at Workbar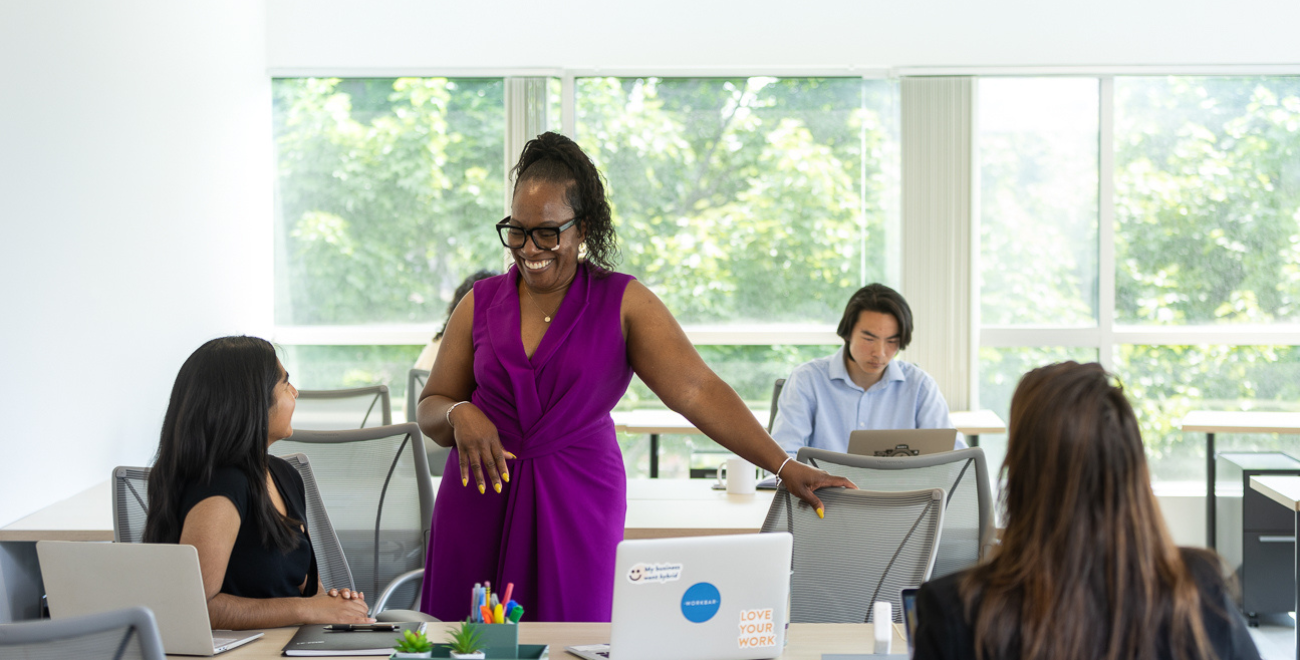 Wheeew, that's a lot of W's! But we're willing to get tongue-tied for you because we want you in peak wellness shape when you work. We pride ourselves on fantastic workplace wellness; from open, bright, airy workspaces to the best water options in the game, Workbar prioritizes worker well-being in as many ways as possible at all of our locations. Here are five ways we're raising workplace well-being.
Community Managers - a wise man named Vanilla Ice once said, "If there was a problem, yo, I'll solve it." And while our Community Managers don't exactly revolve it while you check out the hook (actually once in Woburn…..), they are there to help you with any needs. Need to book a conference room? Your CM can help with that! All that delicious coffee stocked in the Cafe? Thank your CM. Those healthy snacks and fun events? CMs. Your comfort is your Community Manager's priority.
Hydration Station - Look, if you're anything like us, you're probably a little tired of hearing how much staying hydrated improves your health. We get it! Drink more water! But for real. Ya gotta get that H2O in, and we make it easy with our version of the office water cooler. The Workbar Cafe is the place to chat, and the Bevi machine, chock full of flat and sparkling flavored water options, is the place to sling (non-work-related) gossip and share work stories, all while staying hydrated.
Convenient Locations - Bad news for all you long-haul commuters. Research has linked long commutes to a long list of adverse health concerns, from increased stress and poorer cardiovascular health to greater pollution exposure. No thanks for all that! Have no fear, Workbar is here. With 11 locations in the Greater Boston area, we can seriously cut your commute. Forget driving into the city or sitting on the agonizingly slow Red Line (looking at you, MBTA). Get to the office faster and in a significantly better mood when you join your nearest Workbar. Next to walking paths, get outside
Furniture - Did you know that poor ergonomics in the workplace can lead to additional stress and even workplace injury? It's why you shouldn't sit with an overstuffed wallet in your pocket, and it's why we choose ALL of the furniture for our spaces to be particularly comfortable, supportive, ergonomic, and gorgeous, obviously. When you're comfortable in your office chair, you're better at your job. Bottom line. And we don't want anyone throwing their back out because of bad office furniture (so our lawyers tell us).
Community Events - It's hard to believe that we spent so much time isolated in our homes or individual offices for such a long time. Remember how we didn't see the bottom half of people's faces for like, two years?! We seriously missed seeing people's smiles. It's no secret that getting together with friends, whether socially or in the workplace, boosts mental health tremendously. That's why we make it a priority to get the party started as often as possible with our community events. Mini golf in Burlington! Speed networking Downtown! Trivia night in Salem! We love bringing the community together.
Ready to join Workbar and increase your wellbeing? Schedule your tour today!