Cambridge
130 Bishop Allen Dr, Cambridge, MA, 02139
Your new coworking community in creative & innovative central square
With universities like Harvard and MIT, plus tons of tech companies nearby, Cambridge has long been known as a place for innovation and achievement. It's a city that draws some of the nation's brightest minds and boldest ideas. With amenity-rich workspaces and neighborhoods for natural connection and collaboration, we're harnessing and empowering it all here at Workbar Cambridge.
If you're looking for a place to excel in your professional life and make real connections in your personal life, we might just be your perfect match.
Building Inclusions
Security
Rooftop Balcony
Compost Area
Signature Amenities
WiFi
Whiteboards
IT Support
Mother's Room
Coffee & Tea
Event Space
Phone Booth
Video Equipment
Telepresence Room
No Noise Area
Computer Monitors
Meeting Rooms
Members Only Network
Printers
Meet your Community Manager
Hey! I'm Lauren Richards. I'm so excited to show you around Workbar Cambridge. You're going to love it here, and I'm available to support you in any way I can.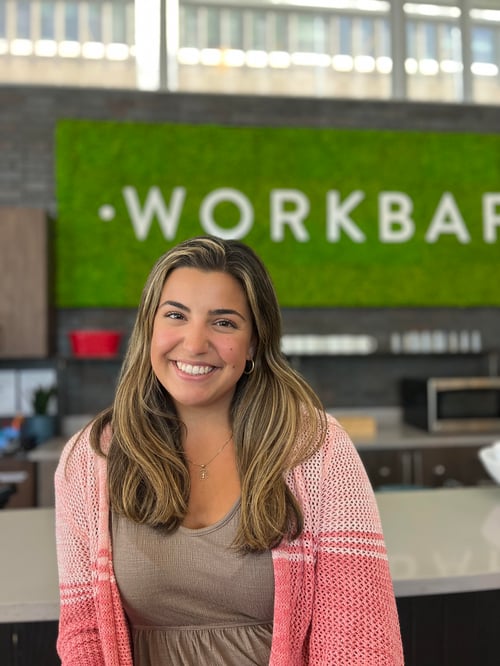 Coffee, tea, or sparkling water?
Coffee
Favorite lunch spot in Cambridge:
Life Alive
Best thing about Workbar:
Community
Ask me about:
The patio!
Around the area
A haven for university students, creative innovators, and young professionals, Central Square is home to many local dining options and much-loved national chains. Plus, one stop on the Red Line can get you close to Harvard and Kendall Squares with ease. Wait for a few more stops and you're in hip Davis Square, central Park Street, and more. From entertaining clients to letting loose with colleagues-turned-friends, the options are seriously endless!
Life Alive
0.2 miles away
Little Donkey
0.1 miles away
Bus: Yellow Line
0.1 miles away
Harvard Square
2.2 miles away
Caffè Nero
0.1 miles away
Brick & Mortar
0.1 miles away
Whole Foods
0.2 miles away
Central Subway Station: Red Line
0.1 miles away
Kendall Square
0.6 miles away
Davis Square
2.3 miles away
Coworking & private office solutions