Quincy
100 Hancock St, Quincy, MA, 02171
Suburban coworking space with amenities of a downtown HQ
Say "Hey!" to Workbar Quincy's sweeping city skyline views, free parking, and amenity-rich spaces for various work and collaboration styles. Located just a short walk from the North Quincy T stop and surrounded by plenty of options for mid-day lunch and coffee breaks, it has all the ingredients needed to boost your work day.
Right now for a limited time ALL Quincy memberships are 50% off for your first 6 months. That means hybrid, unlimited, and even private office memberships. Now is the time to join! We saved you a seat.
Workbar Quincy is an office you can call home. Bring your true and whole self. Our community welcomes you!
Building Inclusions
Fitness Center
Security
Free Parking
Signature Amenities
WiFi
Whiteboards
IT Support
Mother's Room
Coffee & Tea
Event Space
Phone Booth
Video Equipment
Telepresence Room
No Noise Area
Computer Monitors
Meeting Rooms
Members Only Network
Custom Events & Programming
Printers
Meet your Community Manager
Hey! I'm Tamara Clouden. I'm so excited to show you around Workbar Quincy. You're going to love it here, and I'm available to support you in any way I can.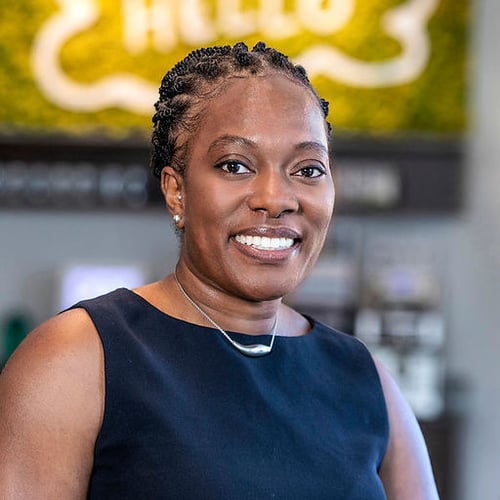 Coffee, tea, or sparkling water?
Bevi Pomegranate Blueberry Sparkling Water
Favorite lunch spot in Quincy:
I'm a bagged lunch person, but Yelp is my best friend. Oh and there's the North Quincy gem, Cathay Pacific.
Best thing about Workbar:
Great natural lighting, the community, the variety in workspaces.
Ask me about:
My Boston Terrier or my new found love of hiking
Around the area
Countless coffee shops and fast food options. Grocery stores right around the corner. Hotels within walking distance. Quincy's suburban landscape promises all the comforts you need in just a short walking distance from Workbar's doors.
D'Angelo's
0.4 miles away
Applebee's
0.2 miles away
Panera Bread
0.2 miles away
Stop & Shop
0.8 miles away
North Quincy Transit Station: Red Line
0.5 miles away
Bus: Yellow Line
0.1 miles away
Pope John Paul II Park
0.7 miles away
Neponset River
0.2 miles away
Quincy Shore Drive
1.1 miles away
Wollaston Beach
1.1 miles away
Coworking & private office solutions