8 Cloud Apps to Help Manage Remote Workers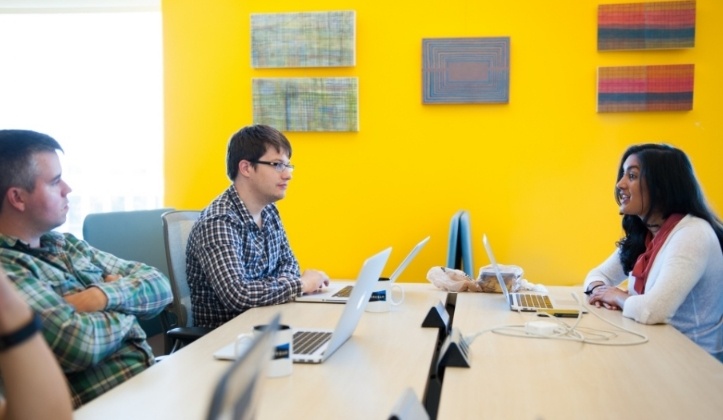 Photo by Tiffany Knight
People seek shared workspace for many reasons: to get away from their cats or their couch, to seek a more flexible and less traditional work environment, to have a professional space to bring clients and colleagues. While most people associate coworking spaces with the startup economy, many of our members at Workbar are remote workers with larger companies, whose colleagues are scattered across the United States (or around the world, for that matter). Communication is key when managing a team of remote workers, as are tools for helping them collaborate effectively across different time zones. Guest contributor Nick Rojas put together a list of the top 8 cloud-based apps that can help remote teams connect, collaborate, and be more productive, no matter the distance.
Cloud-based collaboration software can unify far-flung employees, freelancers or team members who are working on projects together. Collaboration software can replace the inefficient and unreliable email standard, which inevitably leads to lost notifications and missed deadlines. When basic file-sharing software is not enough for your business's needs, consider these eight applications, which are some of the best and most versatile currently on the market.
1. MavenLink
MavenLink excels because it integrates with the platforms you are probably already using, such as Google Drive,
SalesForce and Quickbooks. Go beyond collaboration with real-time reporting that enables you to learn from errors and successes in past projects. Users can share files and track expenses while posting comments. With training and onboarding, integration is painless, and Mavenlink connects with the tools and apps that you already use.
2. Asana
Team communication takes a big step forward with Asana, which centralizes conversations and tasks to get your team off of email. Users can organize tasks into shared projects without ever another status email — instead, users are automatically updated about important tasks or changes. Add files from Dropbox or Google Drive and work from anywhere on any device, including iOS and Android. A streamlined calendar and intuitive dashboards ensure that no element of a project will slip between the cracks.
3. Clarizen
Clarizen gives users real-time visibility into not just projects, but also budgets, which can track payments and
spending from many different kinds of invoice templates. Built specifically for large and enterprise-level businesses, Clarizen is used by more than 2,500 organizations in 76 countries, including Mazda and Barclay. Clarizen is popular especially because it unifies social collaboration with work execution. The software comes with a free, 30-day trial.
4. Exo Platform
Exo Platform is so integrated with social that you can start simply by logging in to Facebook, LinkedIn or Google+. Capture meeting minutes, action plans and reports. Users can share company knowledge through wikis, forums and FAQ applications. Activity streams and spaces keep everyone up to date, and face-to-face video chats and instant messaging enable real-time meetings to supplement document sharing. Team members can use shared calendars to manage meetings and send invitation reminders.
5. inMotion
Designed specifically for marketing professionals, inMotion enables users to speed up project cycles by 56 percent and can save your team seven full hours of work every week. Requests, projects and proofs enable all interested parties to stay in control of workflow. Full transparency provides accountability and instills a sense of ownership. Even clients can join to give feedback and monitor progress. inMotion counts the Walt Disney Company, Dupont, Lowe's and Staples among its user base.
6. Smartsheet
Smartsheet is a spreadsheet-based collaboration tool that enables users to import existing projects or create new ones using pre-built templates. You can connect your favorite apps, such as Dropbox, Evernote, Google Apps and DocuSign. Three different subscriptions levels make the service customizable. 24/7 support is available and email support is always free. Tasks, calendars, files and discussions can be accessed by the whole team in real time.
7. LiquidPlanner
LiquidPlanner provides accountability with visibility at all levels. LiquidPlanner clarifies priorities in multi-level scheduling and task management. Stakeholders get a realistic plan that delivers projects on time and allows the project's creator to adjust or rebuild the project as needs and priorities change. LiquidPlanner estimates the project's realistic completion date based on the length of time it takes to complete individual tasks.
8. Wrike
Wrike goes beyond traditional collaboration by combining project management with document, sharing, discussions and creating a complete, centralized home for your project, its workflow and deadlines. Keep track of ad hoc work in the same system and manage your entire work in the same place. The first five users are free, and following that, the pricing structure is stepped up from professional to enterprise level. Wrike is used by MTV, Stanford University and Adobe.
When choosing collaboration software, keep in mind that different platforms offer different levels of service, and the size of your business will rule out some of the options right away. The entire point of cloud-based software is that users can access it from everywhere, so make sure the application you choose is reflexive, and that it works on mobile devices with no less functionality than the desktop version.
About the Author: Nick Rojas is a freelance writer and business consultant who loves helping businesses grow. He enjoys yoga, talking long walks with his dog presto, and reading books - everything from historical nonfiction to science fiction. If you want to chat - reach out! @nickArojas
About Workbar:
Workbar operates coworking locations throughout greater Boston (Boston Back Bay, Boston South Station, Burlington, Cambridge, Arlington, Brighton, Danvers, Norwood, Salem) and several other partner locations throughout the state. Want to keep up with the world of Workbar? Subscribe to our mailing list for the most up-to-date information about our upcoming events and community news. You can also follow us on Instagram, Facebook, LinkedIn and Twitter.