How to find the right coworking space for you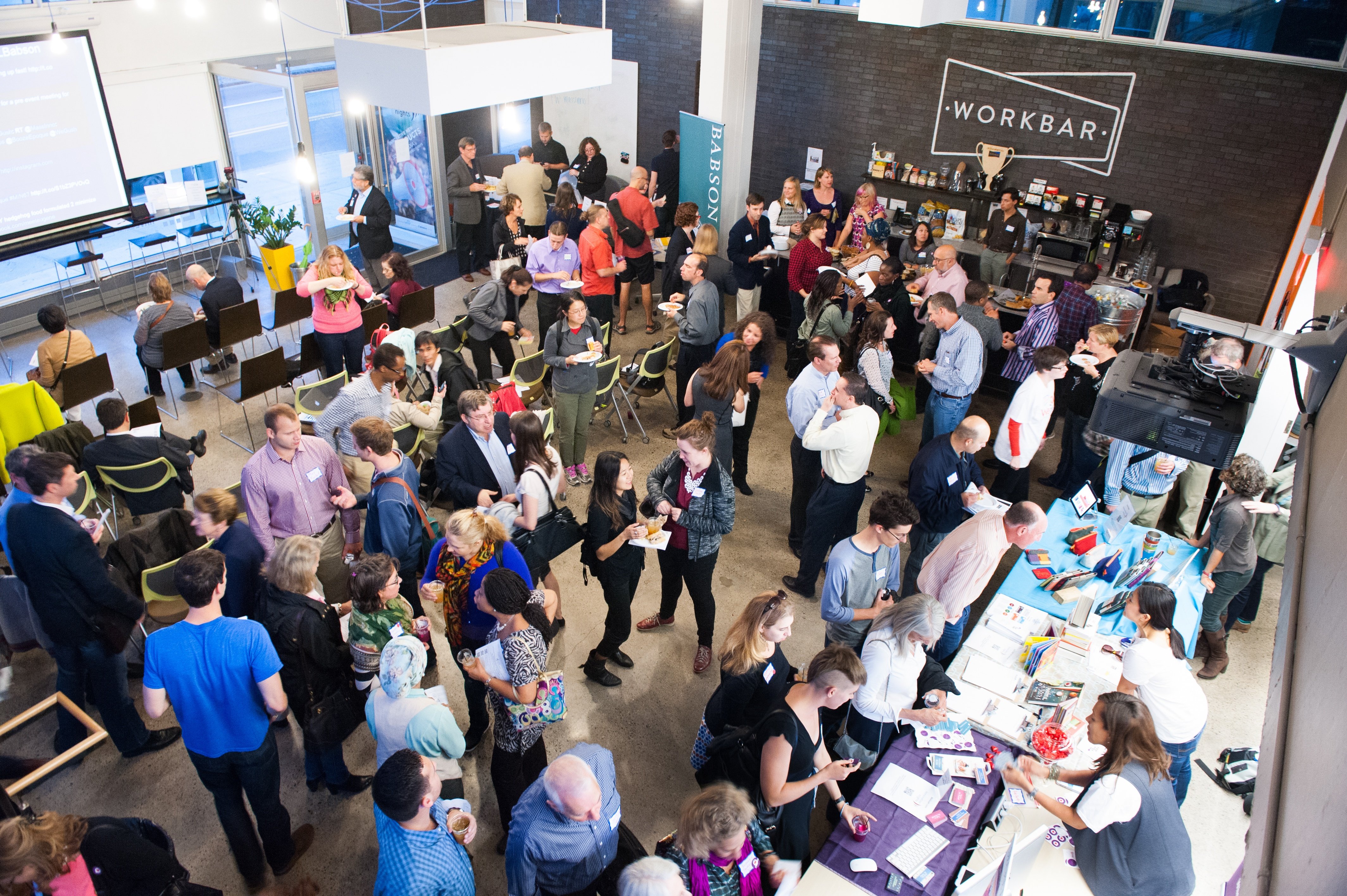 At first you were thrilled at the opportunity to work from home. You spent the first few weeks enjoying the lack of commute, appreciating the luxury of not having to get dressed, of making breakfast at home in your own kitchen. Then, as the luxury wore off, you started scouring the internet for tips on working from home more effectively. Fast forward to a year later and you've exhausted every possible remote working tip and you're no longer sure whether your cat is friend or foe. My friend, it's time you found a coworking space.
Designed to take the pressure off of finding affordable workspace for startups, small businesses, and independent and remote workers, coworking spaces provide a professional working atmosphere, amenities, and a reprieve from isolation. But how can you find one that will fit your unique needs? We're here to help with a quick list of the three most important factors to consider.
1. Location, Location, Location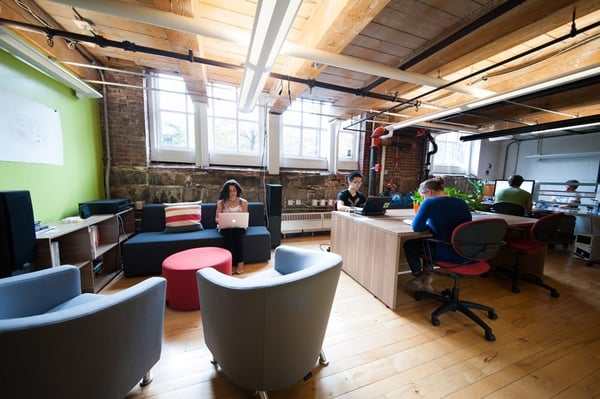 Proximity is important, but contrary to popular belief, the ideal commute is not no commute at all. A study done in 2001 found that most people reported an ideal commute time of somewhere between 15 and 20 minutes each way. It turns out that traveling to and from work gives a sense of space and separation from your job and a chance to detox at the end of a long day. When you work from home, finding that separation between job and personal life can be especially tough, which is why most remote workers will recommend setting strict boundaries for work time in the home. But when those boundaries no longer work, coworking can be a great solution.
Whether your "ideal" trip to and from work is a 10 minute walk or a 30 minute drive, look for somewhere that fits your commuting sweet spot. Location is one of the easiest ways to narrow down your search while maintaining some of the convenience working from home affords. Many coworking spaces also belong to a network, such as CoPass or LEXC, that gives their members free access to other spaces within the network. This is a great starting point for finding something in your area, as well as a good perk to consider, especially for those that travel for work frequently.
2. The Vibe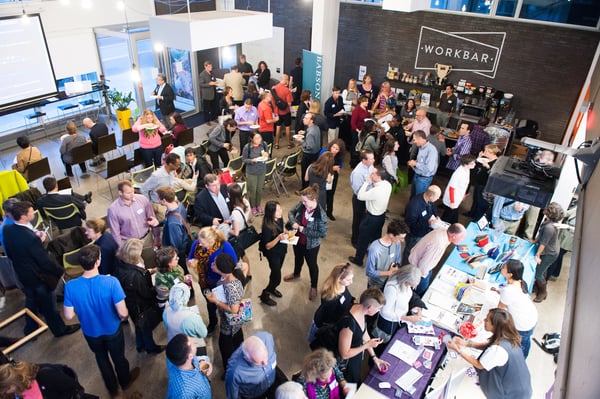 Now that you've narrowed it down to a few spaces within your commuting comfort zone, it's time to get a feel for their vibe. Coworking is as diverse as the people who seek it out, and the community you'll be surrounded with is as important as location. Before accepting a job offer, part of what you consider is the company's culture and whether or not it's a good fit for you; searching for the right coworking space is no different.
Spend a little time figuring out your priorities. Are you primarily looking for a place to work without being bothered, or is a social atmosphere important to you? Do you want regular opportunities to network with other professionals? Workbar offers a thriving events program, full of both social and professional events, as well as an invested community of members looking to connect, share, network, and just hang out.
Think of yourself as Goldilocks on a quest- do you want a big chain or a mom n' pop, corporate or casual, open and modern or cozy and quaint? Considering these factors beforehand will lead you to a place that is just right.
Once you've figured out your prioroties, the next step is to schedule a visit or a tour. See if, like Workbar, they offer a daily rate or a free day to prospective members and stay on to work after your tour. This is hands-down the best way to see if it's going to be a comfortable, functional, and enjoyable environment for you.
3. Amenities
Close to home: check. Pleasant, productive atmosphere: check. But does it meet your other needs? Most coworking spaces come with a solid list of amenities for their members ranging from unlimited coffee, to fitness rooms, to discounts on local restaurants and business services. But you shouldn't just lump luxury perks under the heading of amenities; it's important to consider more practical things too. Joining a space with a great vibe but none of the resources you need to do your job well defeats the whole purpose.
If you're an independent designer or artist, a maker space like Danger!Awesome or Artisan's Asylum can provide access to tools, equipment, and studio space. Then again, maybe you're a consultant or service-based professional and you need meeting space to bring in clients. If, as a remote worker you need to be on frequent conference calls, ask about phone friendly areas. Do you need a permanent desk? Storage? Mail service? And remember those coworking space networks I mentioned in the first section? If you travel frequently, even just within your greater metropolitan area, having an extended network of accessible spaces like what Workbar offers is key.
Upgrade from your home office responsibly by finding out what's included and what's extra, and asking about the things that matter to you. Remember: the staff at a coworking space are there to help you figure out if they're the right fit for your needs, so come prepared with questions!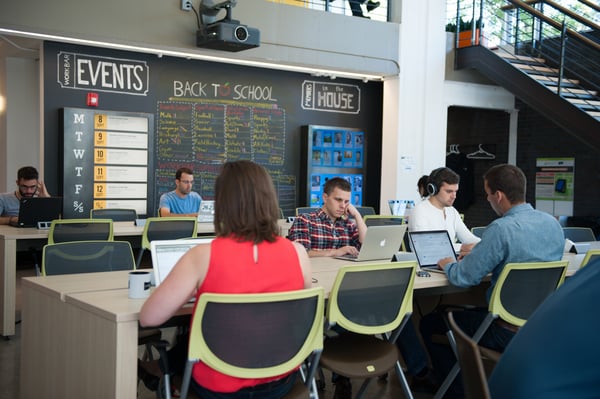 Unfortunately, there's no magic formula for finding the perfect coworking space. It requires a little bit of research, a little bit of time, and a nuanced mixture of facts and gut feelings. Like most things, the investment is well worth it, and the light at the end of the tunnel is increased productivity, better work/life balance, and that warm fuzzy feeling you get from truly enjoying where you work everyday.
If you're looking for workspace in the Boston area, try a free day at one of our locations to see if it's a good fit for you. Happy hunting, remote workers!
About the Author: Ann Holland is a Space & Community Manager at Workbar Cambridge. You may also address her as Potroast. Catch her on Instagram and Twitter under the handle @SamuelEnderby
Subscribe to the Workbar blog for original content on entrepreneurship, the mobile work style and business topics such as management, productivity and team building. Our goal is to encourage and educate you on how to be a better worker! Follow Workbar on Twitter and Instagram and check out our Facebook page.