In Case You Missed It – The Grand Opening of Workbar Norwood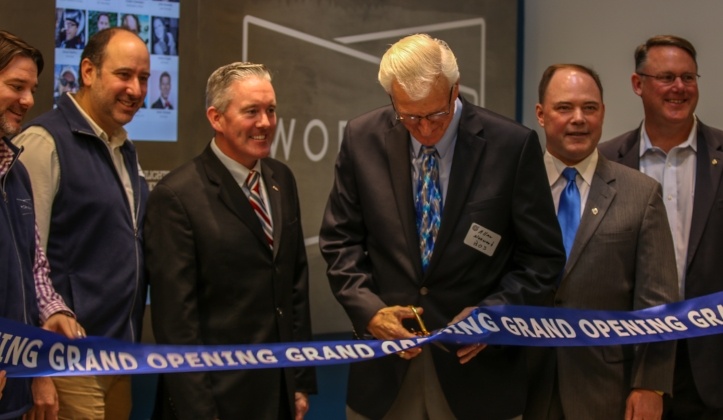 by Devon Greenbaum, Workbar Norwood Space and Community Manager.
Last Thursday, the newest coworking & private office space in Norwood hosted its much anticipated official Grand Opening celebration. The Workbar team was joined by an impressive slew of local leaders to finally welcome coworking – an amenity generally exclusive to metropolitan areas – into the Greater Boston suburb of Norwood, MA.
Alongside Workbar CEO Bill Jacobson and the rest of the team were State Senator Mike Rush, State Representative for the 12th district John Rogers, Town of Norwood Economic Development Head Paul Halkiotis, Chairman of the Town of Norwood Selectmen Allan Howard, Town of Norwood Selectman Paul Bishop, and Neponset Valley Chamber CEO Tom O'Rourke.
Rep. John Rogers had a particularly touching personal story about how he has watched economic development blossom in the town of Norwood. He spoke of making what he called his "first investment in the Norwood economy" on this very site – the purchase of a rubber ball as a child at the local department store which previously occupied this space, long before Staples came around. There was no shortage of civic pride in the crowd of glowing smiles.
After our "soft opening" in late August, as the Space & Community manager of Workbar Norwood, I have had the unique perspective of watching this new suburban coworking community grow inside of Workbar Norwood. What started as a few shy members testing the waters has blossomed into a small but robust community of small businesses, freelancers, and remote workers. Our members are supportive, neighborly, and productive to boot. It's been impressive to watch connections and collaborations unfold so quickly, from members passing on clients to planning full-scale events together.
During the speeches and ribbon cutting, among the crowd of local leaders and my Workbar team mates, I could see my Workbar Norwood members standing by as they always do. Now that Workbar Norwood is "Official," I look forward to watching the suburban coworking community flourish.
About Workbar:
Workbar operates coworking locations throughout greater Boston (Boston Back Bay, Boston South Station, Burlington, Cambridge, Arlington, Brighton, Danvers, Norwood, Salem) and several other partner locations throughout the state. Want to keep up with the world of Workbar? Subscribe to our mailing list for the most up-to-date information about our upcoming events and community news. You can also follow us on Instagram, Facebook, LinkedIn and Twitter.