Workbar Continues Its Massachusetts Expansion Plans With New Location in Needham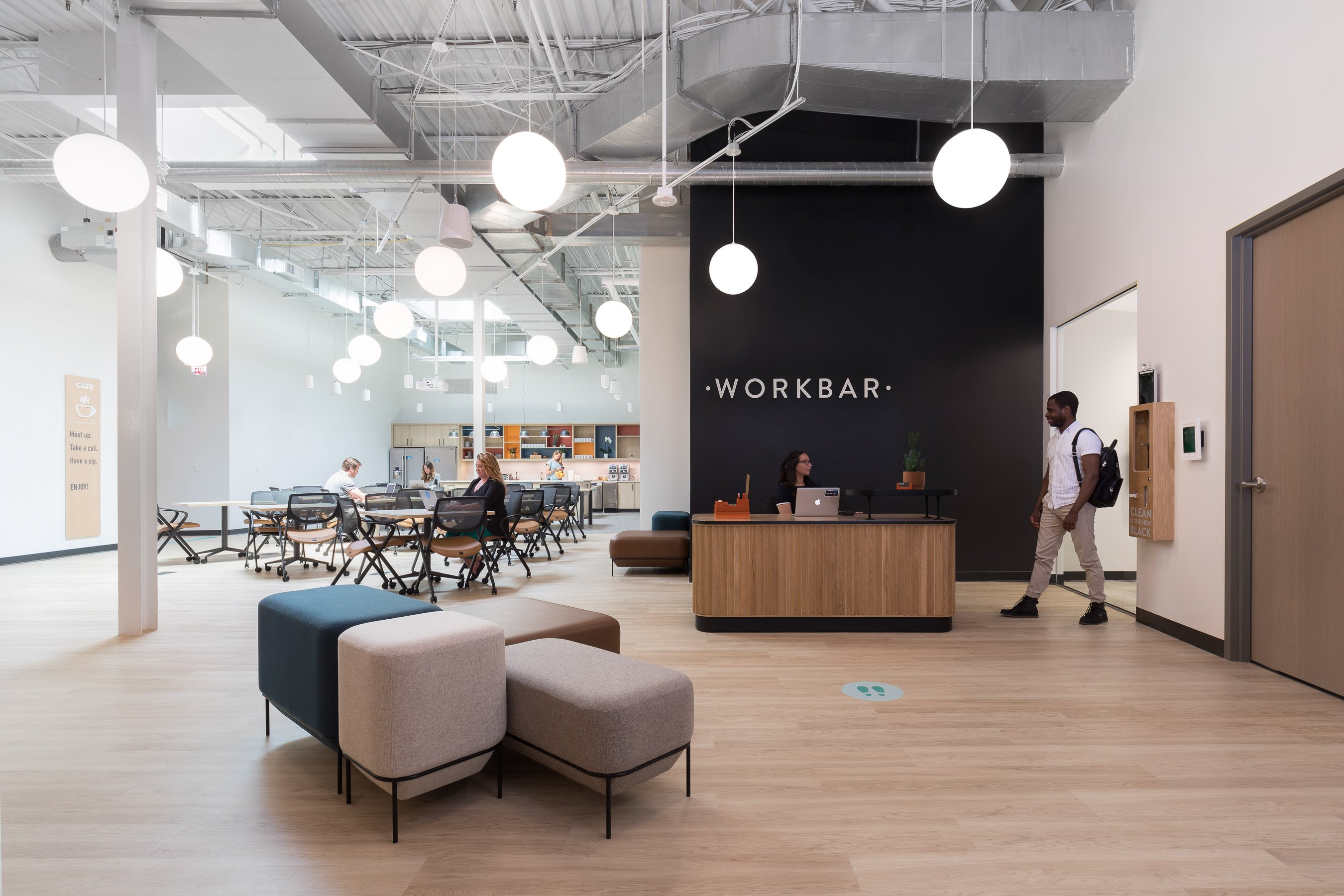 BOSTON, MA, January 7th, 2019 - Workbar, Boston's coworking space trailblazer, has announced plans to open a new location in Needham, further emphasizing its commitment to the "hub and spokes" model of offering its members access to innovative workspaces located both in the city and in suburban regions.
The new location at 117 Kendrick street in Needham is a 17,000 SF workspace in the N-Squared Innovation District, Newton/Needham's innovation hub and home to some of the nation's fastest-growing and well-known innovation companies.
"There is no denying Boston's profile as an innovation hub is rising and Workbar has been on the forefront of it within the city limits and beyond by creating strong ecosystems of coworking and office spaces designed for cutting-edge businesses and individuals. Our newest location in Needham will further enforce our mission of supporting innovators in Greater Boston," said CEO Sarah Travers
"Bulfinch is pleased to have Workbar join the list of notable tenants at 117 Kendrick Street. The property's recent repositioning with improved amenities and common areas will further enhance Workbar's coworking environment," stated Eric Schlager, CEO at The Bulfinch Companies, Inc. "Our collaboration with Workbar will provide coworking opportunities to companies within the N-Squared Innovation District, in synergy with Bulfinch's substantial portfolio."
Ideally situated in Needham Crossing, the property's location is easily accessible via Route 128/I-95 and offers a convenient workspace solution for professionals commuting from the south and west of Boston.
"From the start of the N-Squared project we've been working to attract a coworking partner to add flexibility to our office inventory, said Greg Reibman, President of the Newton-Needham Regional Chamber. " Workbar's arrival creates a much-needed place to help entrepreneurs and smaller companies scale — just as CyberArk, TripAdvisor, SharkNinja and BigBelly Solar have — right in this neighborhood. It will also provide opportunities for students from UMass Amherst's Mount Ida Campus to interact with the Workbar community."
With shuttle service to the Needham MBTA green line, free and dedicated parking, a full-service cafeteria, a fully-equipped fitness center, café/lounge, lobbies and outdoor space, the Needham location has been designed specifically to enhance community, productivity and wellness.
"It was a pleasure working with the Workbar team in securing the lease at 117 Kendrick Street, which due to its accessibility and proximity to numerous amenities in the N2 corridor, lack of coworking alternatives and Workbar's unique product, we expect this to be an immediate success." said Rob Byrne, Managing Director at Cushman and Wakefield.
Workbar has now officially begun membership and office pre-sales in preparation for space's April 1, 2020 opening. To learn more about Workbar Nedham, please contact Workbar's General Manager Bobby Murphy at bobby@workbar.com
About Workbar:
Workbar is Boston's original coworking space, with nine locations throughout Greater Boston, including (Boston Back Bay, Boston Downtown Crossing, Needham, Burlington, Cambridge, Arlington, Norwood, Salem) and partnerships with 10 more coworking spaces across Massachusetts, Rhode Island, and one location in the heart of San Francisco's Financial District. The network of shared workspaces offers a "hub-and-spoke" system for people whose work takes them all over the region. Workbar caters to small businesses, freelancers, entrepreneurs, startups, and corporate clients with remote teams looking for a productive, flexible place to work and to meet with clients and other like-minded professionals. With professionally-managed space and top-tier office amenities, Workbar coworking spaces are built with the connections needed to inspire, provoke, and ignite productivity and passion. You can also follow us on Instagram, Facebook, LinkedIn and Twitter.
Media contact:
Zoey Gulmi, Gulmi Consulting zoey@gulmiconsulting.com