Workbar Member Mixes Music with Entrepreneurship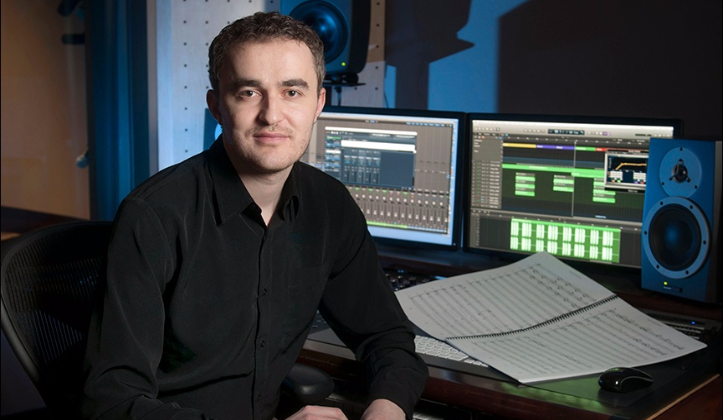 Considering that sound has been around since the dawn of time, it is astonishing that Johannes Flecker continues to discover new uses for it. His innovations in the sound of leadership stem from his unconventional life journey, which began in a musical family in Austria (don't say it… ) and then wove across the globe, through the worlds of business and art. Flecker's pursuit of a few favorite things shows how one person's unconventional wisdom can change how we humans use music.
"Doesn't everyone do this?" he remembers thinking. Harmonizing with his entire family was nothing unusual, and a younger Flecker assumed that instruments and voices were simply part of life. When an older brother's interest in business struck a new chord inside him he stopped looking at the music profession as binary enterprise (of either stardom or obscurity) and saw ways to combine music with marketing. He's been on a riff ever since.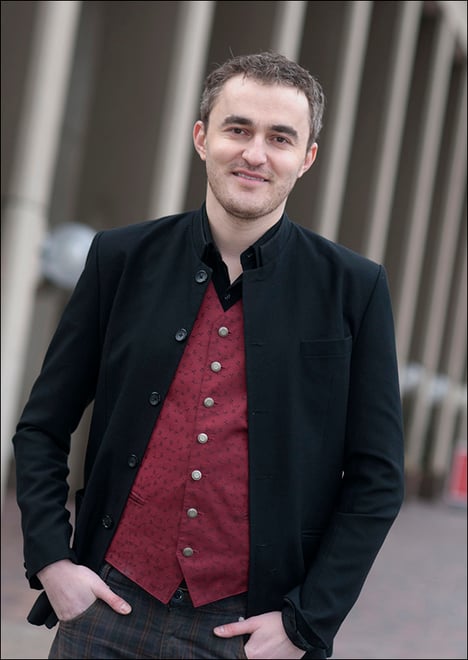 "Something with music and marketing fit perfectly with my passions, so my doctoral thesis was a natural thing." He is almost nonchalant about his PhD in Business, but what comes naturally to Flecker is impressive to the rest of us, like performing with the Boston Pops in Boston Symphony Hall, sharing a stage with Melissa Etheridge, recording and producing several pop albums, working for a leading European think tank, and speaking four languages. Just from his business resume, he says his three biggest milestones as an entrepreneur were earning his doctorate, starting his own company (Sound Leadership), and his discovery byBerklee's Institute for Creative Entrepreneurship (ICE).
"Business was an acquired taste," he tells me in the Cambridge Café of the coworking space Workbar, where the Berklee ICE places their startups. He credits much of his success to this institute, and its ability to marry the disparate worlds of art and money. "They are there to help music entrepreneurship, and I'm still constantly in touch. They don't take equity, they just want us to succeed. With so many paths to take, you don't have to be a rock star."
At the center of ICE is a kind of rock star. From Sonicbids to Berklee, ICE founder Panos Panay is a big name in musical entrepreneurship, and his incubator has been a launchpad for polymaths like Flecker. As Panay describes him, "Johannes is able to perfectly blend a background of traditional business consulting with the creativity and soulfulness of a musician to create something wholly different and unique." Panay has a little gravity behind this opinion: his platform (Sonicbids) handles 550,000 bands across 100 countries. It seems that even in a very large pond Flecker is a big deal. "His innate talent and curiosity, coupled with his drive and ability to listen and execute, make him the perfect creative entrepreneur."
Under the eye of Panay, Flecker flourished. "Integrating music into leadership development was not done very often." How did he solve a problem like leadership? True to his entrepreneurial nature, where he perceived a vacuum, he made a company. Sound Leadership was born. It's mission: innovate, develop and inspire organizations with music-driven leadership programs. "I felt like this area was needed, and no one else would ever do this. There's no better tool to get out the creative juices. But no one had made a methodology or structured approach. What we are doing with Sound Leadership is structuring this, and solving various challenges with music."
https://www.youtube.com/watch?v=2sFPW70fO-8
He reminds me that this is not a "kumbaya" thing. Indeed, his team members include Grammy Award winners and nominees in New York City, Nashville, Los Angeles, Zurich, Rome, Delhi,Bangalore and Shanghai, and his clients are heavy hitters like the Capital Network, Fidelity Investments and a slew of universities. While he acknowledges that some music is an end in itself, "For us, music is the tool, a means to an end."
For Sound Leadership's clients, that end is their bottom line, but he conducts them there via the scenic route: using storytelling and songwriting. "I get my clients to tell their story. It's a great way to get the team together, to talk, to create something together, to think about their story, and express it in three minutes and forty seconds. Yes, every word counts, and that's part of it!" Song writing teaches how to cut to the heart of a story, and his tutorials on "Songwriting Hacks for a Better Business Mission" reveal his gifts as a natural teacher. "There are two aspects: lyrical and musical. Companies need to ask themselves 'How does our corporate culture sound? How does it feel, and what does that say about us?'"
As corporate culture casts increasingly wide nets around the idea of a work/life balance, their changing needs have kept Flecker flexible with the company's direction. "Sound Leadership started with songwriting for team development. All of a sudden, a company approached us about tools for stress management. So when a prospective client asks, the consulting company says yes! This iterative practice helped shape our services." Like a jazzy improv, Sound Leadership's forays into new the frontiers of music have developed into the separate branches of the company. Leadership development, team-building, problem-solving, public speaking, work engagement and work wellness are all getting the Sound Leadership treatment, which is to say they are evolving through the deliberate and scientific application of music.
And Sound Leadership continues to branch out. "We are doing a program with a therapeutic institution in New York, which includes music therapists, for healing psychology. We're in the process of working with a sanctuary for families that have suffered trauma, abuse, and mental illness."
Considering Flecker's track record, there seems like very little he can't accomplish with music, so I ask him what he would tell the world, if he had its ear. Without missing a beat he says, "Play more music. Sing more with your family, sing more songs, don't go around with your earplugs, SING MORE! People are afraid of the intimacy of singing. It reveals something about you, and you have to let go of your mask that you carry."
He says that a society where people don't sing is a sad, sad society. He told me earlier that he learned not to rush headlong into businesses, but considering how out of harmony the world is, we might want to pick up the tempo. "Even if you're out of tune, reveal your personality! In these times of perfect Instagram filters, ridicule less, and see the beauty in this."
Dave Gentry is a fan of progress and recess. He believes in Olde English, new fortune cookies, and he answers to #davertido.
About Workbar:
Workbar operates coworking locations throughout greater Boston (Boston Back Bay, Boston South Station, Burlington, Cambridge, Arlington, Brighton, Danvers, Norwood, Salem) and several other partner locations throughout the state. Want to keep up with the world of Workbar? Subscribe to our mailing list for the most up-to-date information about our upcoming events and community news. You can also follow us on Instagram, Facebook, LinkedIn and Twitter.