How having a flexible workspace close to home brings women back to the workforce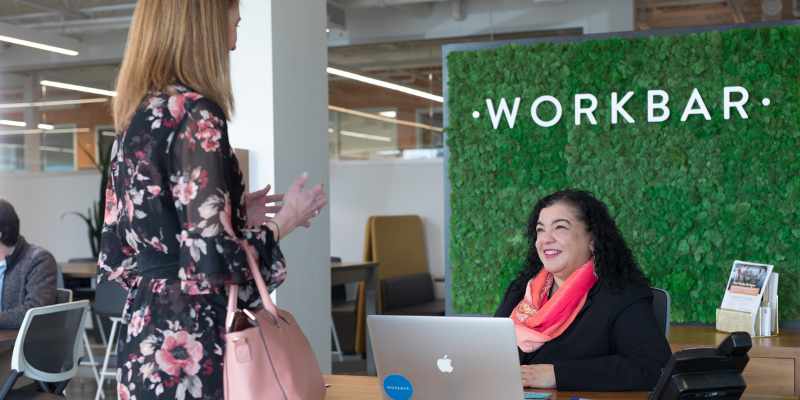 Working women, parents, and caregivers weigh in on what they need to get back to work
"There's no secret sauce to balancing it all. Balls will be dropped from time to time and that's okay. You can't do it all, all the time. Prioritize what's important today, give it your all, then start again tomorrow." And ask for help! They don't say 'it takes a village' for nothing."

- Maria Sansone, mother of 2, Emmy Award winner, host of MOM2MOM with Maria Sansone, and co-host of NBC Boston's Hub Today
In Massachusetts, as in the rest of the United States, the gender pay gap remains a stark statistic and problematic social fact.

According to EqualPayMA, an initiative of the Office of Economic Empowerment, data shows that women in Massachusetts earn just 83 cents for every dollar a man makes. And that ratio is even worse for most women of color. Asian women earn 84 cents, Native women earn 64 cents, African-American women earn 59 cents, and Latina women earn 51 cents for every dollar a man in Massachusetts makes.

How Workbar Member Sofi Madison Achieves Balance


In Massachusetts, as in the rest of the United States, one of the largest factors contributing to the continued existence of the gender wage gap is the fact that, among heterosexual parents, traditional gender roles continue to place a greater portion of domestic responsibilities, including childcare and home and family management, on working mothers than they do on working fathers.
What working parents and caregivers need is to be closer to home
"When my kids were young, I often struggled with the balance of being at important events. Now that they are older, it's still difficult to leave them when they are sick."

- Elizabeth Baldelli, Workbar's Operations Manager
Working parents may be the more visible, more talked about group experiencing the stress of balancing both family and career, but caregivers are an important piece of that puzzle too. A caregiver is someone helping to care for a loved one who cannot fully and independently care for themselves, such as a disabled sibling or an elderly parent. According to the National Center on Caregiving at the Family Caregiver Alliance, an estimated 66% of caregivers are women.
The hybrid model of working that has become a workforce demand in the post-pandemic professional world is particularly important for both working parents and working caregivers.
Hybrid work means parents and caregivers can choose to work closer to home when necessary, giving them the flexibility to run important errands - like picking up prescriptions and getting groceries - at a time that works best with their hectic schedule.
But more importantly, being near home makes it easier to shuttle relatives to doctor's appointments and kids to school and extracurriculars, without having to miss work or coordinate with hard-to-find additional helpers.
Managing both family and career leads to burnout, which leads to dropout
"What I would tell younger generations about being a mother who works outside the home is to never stop working. It gets easier to find balance day by day while fostering independence for your children."

- Amy Orlando, Workbar Needham Community Manager
Unexpected and off-hours, mid-week need for help transporting children and loved ones can be a serious source of stress. And as weekends book up with birthday parties and family events, the family manager role becomes a round-the-clock logistical commitment which can lead to burnt-out working parents and caregivers who feel they can't keep up with both work-life and family life. And it's that degree of stress that can push one spouse, most commonly a woman, to leave the workforce to focus on the needs of the family.
Keeping both spouses local levels the playing field
"I am a new mom to a 13-month-old little guy. During the peak of the pandemic in 2020, while I was pregnant, my husband and I relocated from Boston to Colorado to be closer to family and friends (the support system we knew we'd need for our biggest life change yet). I'd been with Workbar for almost 2.5 years as the Director of Marketing. Being able to work remotely at Workbar means everything to me as a new mom. I have found renewed focus and clarity in my work. I'm much more diligent about keeping to my priorities and agenda for the day so I don't interfere with important time with my son and husband."

- Shaunna Van Hout, Workbar's Director of Marketing
When a parent or caregiver can work closer to home, they can be available for shuttle duty in a way they cannot be when working in a far-off downtown HQ. They also save time that would otherwise be spent contending with a daily commute, another aspect of life that pits their schedules against the schedules of their young school-aged children.
But importantly, when both spouses, regardless of gender, have a workspace where they can be productive while also meeting the needs of their family, the balance of that responsibility can be spread more equitably between the two. Sharing family duties means no one spouse is bearing the full weight of both career and home life. That allows both spouses to remain in the workforce.
Where Workbar comes in
"Being a mother is the greatest, hardest, most rewarding job I will ever have."

- Elizabeth Baldelli, Workbar's Operations Manager
Workbar is a Boston-born company offering flexible coworking and private office space in 10 locations throughout the Greater Boston area. While we have locations in some of the most in-demand commercial centers of the city, the majority of our locations are in strategically chosen suburban hubs, places like Needham, Arlington, Woburn, and Salem.
Workbars' suburban locations meet working parents and caregivers where they need to be: close to home.
Additionally, each Workbar location is intentionally designed to promote productivity, meaning members have access to a professional environment that has all of the benefits of being near home with none of the distractions of being at home.
The choice between career and family is not one anyone should have to make if they don't want to, regardless of gender. With a Workbar near home, being fully present and engaged with both work and career is possible.
References
EqualPayMA: Closing the Wage Gap in Massachusetts
Surviving Pandemic Motherhood Report