Meet Workbar's Rockstar Community Managers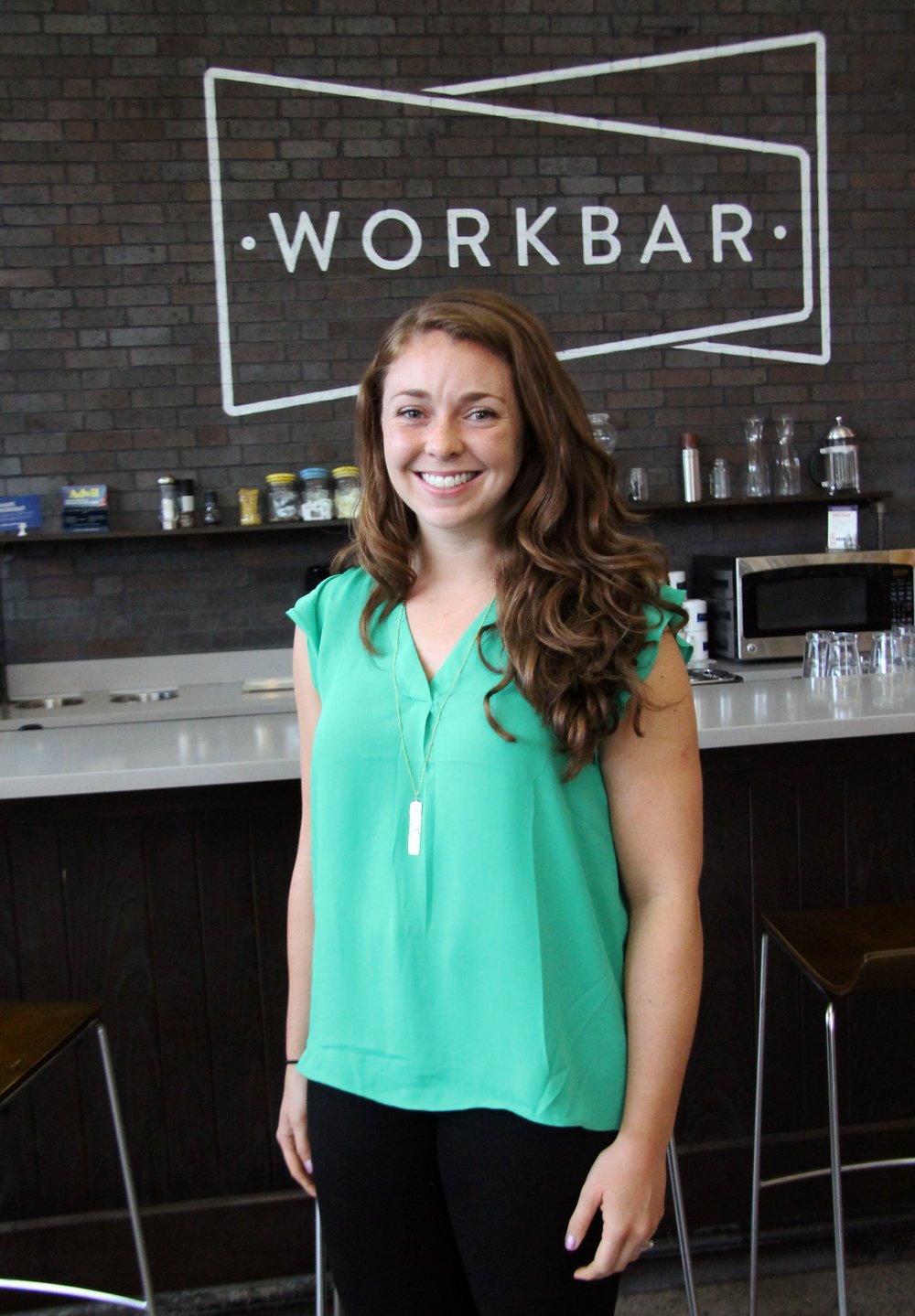 Community Managers are the unseen heroes behind every successful coworking space. From planning happy hours, yoga classes and even pancake breakfasts to fixing printers and solving technical difficulties, our Workbar Community Managers are devoted to enhancing the member experience at each of our spaces. But more importantly, they are completely awesome humans, always willing to give coworkers a hand.
Humans of Workbar: Our Community Team
Here, you'll learn five little-known facts about our ten amazing community managers.
1. I grew up just south of Nashville and went to The University of Tennessee. My husband is now in law school which is how we ended up in Cambridge.
2. I love avocados and eat ~1/2 of one everyday - definitely more if guacamole is involved!
3. A favorite hobby of mine is hiking. It's empowering, restoring, and an awesome way to experience the outdoors. I lived in Salt Lake City for a year and got to hike some pretty incredible mountains.
4. I won "Most Athletic" in middle school and high school and am never going to stop bragging about it.
5. My husband and I got engaged right after we went skydiving. It was the second best day of my life!
Julianne - Workbar South Station
1. I'm originally from Massachusetts but have lived in Thailand, Germany, and Wales in the last five years! Happy to be back… love that dirty water!
2. Before working at Workbar, I worked at international schools (see above) helping to implement a more holistic approach to the academic curriculum. The most fun part was daily kids yoga!
3. I LOVE to dance.
4. Summertime is my absolute favorite time of year and, when I'm not working, you can find me paddle boarding, rollerblading, or just beach-bumming with a good book.
5. Speaking of good books, my current favorite is The Dovekeepers by Alice Hoffman. If you haven't read it, I highly recommend doing so!
1. I'm originally from Moscow, Russia and have also lived in Belgium and the US. I speak Russian, French (sorta), and English.
2. Before working at Workbar, I was a nationally ranked competitive ballroom/latin dancer.
3. Growing up, I played harp, piano, and sang. I wanted to be a choral director (big dreams, I know)!
4. Breakfast is my favorite! I could eat it for all meals of the day.
5. I'm fascinated by people and what makes them grow; I'm inspired by their strength and resilience. Talk to me about cultivating deep connections with others.
1. I was born in Miami, Florida, went to college at Colby College in Maine.
2. Music is my passion but food and science fiction are on the top of my list too.
3. I love sports, from skiing to wakeboarding to chess, I love the competition.
4. I relax with the summer heat, it reminds me of Miami and it is a good reason to go outside and enjoy the weather.
5. There is nothing that brightens my day like pets. My favorite pets are German Shepherds.
1. I am a North Shore native, growing up in Manchester by the Sea. Anyone who knows me knows how much I love that town!
2. Real estate interior design are passions of mine. I love moving things around and shifting the energy in a room.
3. Good food and great wine is a huge part of my life. I live in Salem, MA now and love trying new restaurants.
4. Organizing and cleaning is one of my favorite things to do. If I have a weekend off, I am most likely doing house projects. I've thought about making a business out of it, but I do not want to risk taking the joy out of it!
5. I was an entrepreneurship major in college and am constantly brainstorming business ideas. Someday (hopefully soon) I will find something worth investing my time and energy.
1. I have a dog named Bonkers and he is my world. I share him with my brother and we are currently living together in Waltham.
2. I grew up in Topsfield, MA which is home to the Topsfield Fair, if you've ever heard of it. My childhood home is now a Roast Beef shop on Main Street in the center of town.
3. Before moving home in July 2017, I lived in Austin, Texas for almost 3 years. I truly enjoyed Austin but spent most of my money coming home to visit family so I decided it was time to move home.
4. I love lacrosse- both playing and coaching. While I was in Austin, I coached for 2 years at a middle school. For the majority of the kids, it was the first time they were picking up a lacrosse stick. It was one of the most challenging and rewarding things I have ever done in my life.
5. I studied abroad in Chile for 5 months in college and since then, I have fallen in love with traveling. So far I have been to Greece, London, Spain, Peru, Argentina, and Chile. I am eager to plan my next trip.
1. I'm originally from the small college town of Davidson, North Carolina and graduated from the University of South Carolina in 2017.
2. Growing up, I was always obsessed with startups and innovation. This led me towards a passion for coworking.
3. I'm a huge foodie and I love pop up events. Every weekend you can find me scoping out the Boston Calendar or on Yelp. My goal is to check out a new business every week!
4. I love soccer, golf, and skiing and am working towards my sailing certification!
1. I'm originally from Maine so I enjoy the outdoors because that's all there is up there.
2. Painting and kayaking take up most of my free time, but not at the same time.
3. I stopped eating meat and seafood after having the hiccups for 9 days straight.
4. I'm working my way through all the vegetarian restaurants in the area, if you want to know my favorite so far, just ask.
1. I was born in New York, raised in Connecticut, and went to college at Virginia Tech for Hospitality. Now taking on the next phase of my life in Boston as a Community Manager!
2. I love music and going to concerts! You can find me at your local music festival J
3. While I'm not the greatest skier, I love hitting the slopes and enjoying the mountain views.
4. I enjoy the filmmaking world and secretly would love to be a video editor.
5. I love breakfast food, especially waffles.
1. I grew up on the South Shore, and love being able to go in and out of Boston so easily
2. Napping is my favorite thing to do. Second only to snacking all day every day...
3. I try to adventure as much as possible, usually taking photos with my friends in the process.
4. I am a huge nerd. I always play Overwatch far too much for my own good (support main FTW).
5. Whenever I see Downeast on a menu, I have to order it. It's 110% the best cider around.