Key Market Trends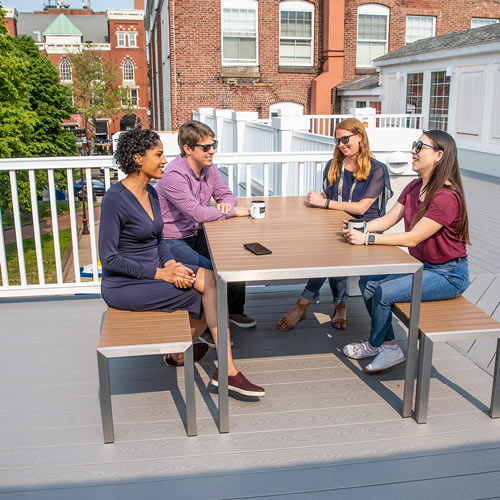 Key Market Trends
Everything Workers Really Value in an Employer is Changing. Here's What to Focus On.
Office Life Might Have Stopped But Caring for Employees Should Not
We are in the midst of a deep workspace transformation and the priorities of employers and employees have shifted completely in a rather short period of time – the way professionals think about work and what they value in an employer will never be the same.
As both professionals and employers relearn to navigate issues regarding hiring, office culture and work-life balance, it has become clear that companies who want to retain and attract talent in 2020 and beyond will have to make crucial adjustments to their policies in order to accommodate the needs and demands of the modern worker.
In this piece, we have compiled some of the most important market trends that are shaping the future of work – and the reasons why employers should consider them when effecting change in their organizations.
While it is still hard to predict how and when companies will bring back all their employees to the office, the reality is that as office buildings remain empty or operating at a reduced capacity, work has not come to a halt – hiring has not stopped, and a company's commitment in caring for employees' satisfaction and wellbeing should absolutely not stop.
Even before it becomes clear when or under what conditions the return to the office will occur for many workers, it is crucial that companies adjust and implement certain policies to ensure they are prepared to be competitive in the job market and do the most they can to ensure employees are safe, comfortable and have the support they need to perform their duties.
Flexibility and Wellness are Deal-Breakers
By the summer of 2020, virtually every professional had the chance to experience working remotely – mainly from home, and experience the benefits and drawbacks that come with it. With this shift in the professional environment, the needs, the wants, and the demands of the workforce have changed accordingly, with wellness and flexibility taking the front seat.
From an employee's perspective – we have seen the good, the bad and the ugly of working from home, and for most, the positives – such as flexibility in choosing when they work, no time lost commuting, safety, a larger focus on work-life balance, less pointless meetings, more use of efficient digital tools – far outweigh the negatives – like the struggle to avoid distractions and find focus while working at home, social isolation when working alone, and uncomfortable workspaces with no amenities.
This is especially true considering working remotely doesn't necessarily mean working from home – coworking memberships, flexible remote workspaces for teams and independent professionals, event and conference venues and even community spaces are likely options from which remote workers might choose to work from as opposite to a company's HQ or their own house.
This realization has promoted a self evaluation in terms of each individual's work style and what duties actually can be done away from a tradicional office.
For an organizational point of view, companies now know remote work is a real possibility and can help them remain efficient in a transformative period. And professionals know they can demand to work remotely even if this was denied before – in fact, finding an employer that values and accommodates remote work now comes as a top priority – sometimes even over salary expectations.
In addition to choosing where to work, trends such as flexibility in schedule, a strong focus on health, wellness and safety, and social responsibility have become more important than ever for employees. Professionals want to work for employers that truly make these elements a priority. Let's take a closer look.
What Employees Really Value in a Company in 2020?
Reduced Stigma of Remote Work Due to COVID-19 - As we mentioned above, remote work is not only becoming the new normal, but it is keeping employees safe, companies working and the economy running. While consultants and modern startups employees have tried coworking and enjoyed the benefits of remote work for quite a few years now, until this spring, many traditional companies resisted this trend. Now, we have seen that working remotely, more than a luxury or a perk, is a viable alternative to increase productivity, reduce risk and promote work-life balance. It is no longer practical for employers to say "we can't be efficient working remotely"
Remote work must be a real possibility and choice for all employees, even when the COVID19 situation gets under control. Offering full-time employees the option to work remotely and providing the things they need to do it efficiently – like laptops, tech devices and a membership to a remote workspace – will make the difference and set up employers for success in terms of hiring and employee culture.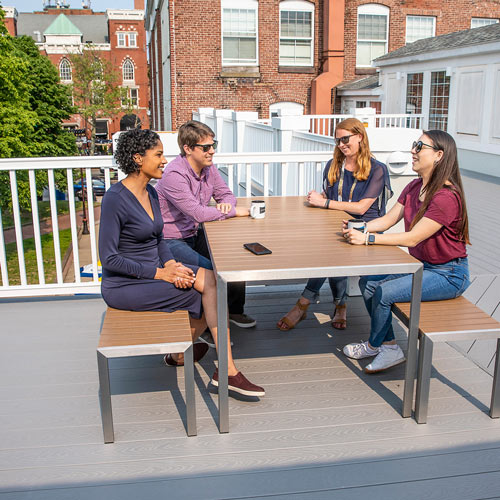 The Ability to Set Your Own Hours – Goodbye, 9-5 – One of the things that these past few months of remote work have taught managers is that it doesn't really matter when an employee works, but the fact that the work gets done to the highest standards.
With this shift, the traditional 9-5 workday has become a thing of the past in most industries. During the lockdown, we saw working parents taking care of their children, squeezing in homeschooling between Zoom calls, bringing relatives to the doctor and delivering projects and proposals to their managers – all on the same day.
Most professionals were effectively not able to work a traditional schedule while working from home, however, early studies have now shown that many employees worked the same or more hours during the lockdown than they did before.
The Ability to work from Anywhere – Following on with the trend of flexibility, we now know that work doesn't just happen at the office – whether that is a traditional or a home office. Professionals who have the ability to choose where they work find their jobs more enjoyable and tend to be more productive and proactive.
Dividing work tasks between home, the office and a third place – whether that is a remote workspace, your favorite cafe, an event venue or community space, has become increasingly popular. This variability adds value to a professional's experience as it allows for them to adjust and design their workday according to their lifestyle and responsibilities outside of work.
Safety in the Workspace – These challenging times have truly made us realize that if we don't have health we don't have anything. Workers who were accustomed to going to a hip corporate office every day will mostly be happy to see many of those amenities replaced with features to make the space safer – such as reduced capacity, desk dividers, area separators, cleaning stations, and an overall shift to wellness-focused behavior.
At Workbar, for example, the team has adopted best-in-class safety features and design measures that support wellness in the workplace and ensure that workspaces available to companies and independent professionals are just as safe as home, but as productive as an office.
Building a Lifestyle that Supports Wellness & Mental Health – Now that keeping our physical health has been ever-present in our lives for months, there is also a strong focus on general wellbeing and mental health.
Employers looking to prioritize their staff's mental health can support them by incorporating things such as free memberships to digital platforms for stress-relief, fitness and balance like the Down Dog yoga app, Headspace for meditation and sleep therapy, or Runkeeper for workouts, to a company's perks list.
Suburbanization – The Rise of Smart Spaces Outside the Big City – The reality of today's workforce is that professionals are no longer obsessed with living in the big city. While they will always be those looking to live and work in the main hub, more and more working professionals are moving to the suburbs. However, these do not mean that they are looking to give up the amenities that life and work in the city once brought them.
Because of this, it's crucial that employers are able to provide workers with smart and fully equipped workspaces outside of the city. As many more consider working remotely, at least for part of the time, a flexible workspace near where they live becomes key.
Luckily, efficient and well-equipped remote workspaces are not only a city affair. Workbar, for example, offers an ample network of remote workspaces just outside of the city. Many of the locations are in some of Boston's most demanded suburbs such as Needham, Burlington, Arlington, Salem and Norwell, and offer the same perks, membership options and amenities as the flagship downtown locations.
Sustainability is Key – A product of the complex and transformative time the world is undergoing has also made us realize how crucial it is to be mindful of the impact that our lifestyle has on the environment and try to act in a more conscious way.
Companies that promote practices that help reduce an individual's carbon footprint and the organization's overall environmental impact will be the preferred choice for many job seekers. Implementing policies such as recycling, moving toward a plastic-free office, and prioritizing amenities that reduce energy waste are great ways to improve a company's sustainability protocol.
Increased Diversity in the Workplace – Just as job seekers have become more inclined to work for companies that care about the environment, we have seen that in the new generation of professionals, social consciousness is strong and they are looking to work for organizations that promote diversity and equality, and have a made strides to prove that they care about these matters.
Companies looking to position themselves to win the war for talent must have a real commitment to diversity with decisions such as hiring a gender-balanced and multicultural workforceand, including women and POC in company boards and management teams, and ensuring equal pay policies are in place.
Becoming Pioneers of Employee Staisfaction in the New Era of Work
Much has changed in work culture, office etiquette and employee management in the past few moths, and it is fair to say we are not all the way through with this transformation.
While it is hard to predict when or if the workplace will ever be the same, it is clear that employees' prioritiores will not go back to what they were pre-COVID19. Hiring will remain a competitive area, especially in hubs like Boston, New York, and San Francisco, and companies who want to stay competitive and attract the best talent must act now and consider these market indicators to reshape many of their employment policies.
By supporting flexibility, wellbeing and sustainability, and finding creative and original ways to care for their staff, organizations have the opportunity to effect positive change in the new era of work.
RELATED POSTS WE THINK YOU'LL LIKE:
The 2020 Back-to-Work Guide Key Resources to Help Employers and Employees Thrive in the Remote Work Boom The office as we know is a thing of the past. Today more than ever, companies are going through such a powerful transformation period it could very well be the beginning of a new era when it comes
Read More →
We want to make sure that you have access to all of our Workbar Live Sessions that help assist you with educational information from our wide range of panelists – and do so at your leisure. We are uploading all of our past sessions to make viewing easier for you. Check out our session with
Read More →
When stay at home restrictions are lifted and the time comes for you to re-enter your physical workplace, we know that you will face new challenges emotionally and physically. It will take great mental stamina for all of us to adhere to our new normal. On May 11th, we are released Workbar's COVID-19 Remote Workplace
Read More →
Below is a letter from our CEO to our members: Dear Members, I hope this letter finds all of you and your loved ones healthy and well. Merging work, home and school under one roof has been a struggle for me personally and everyday I wake up thinking about what it will take for us
Read More →