The 2020 Back-to-Work Guide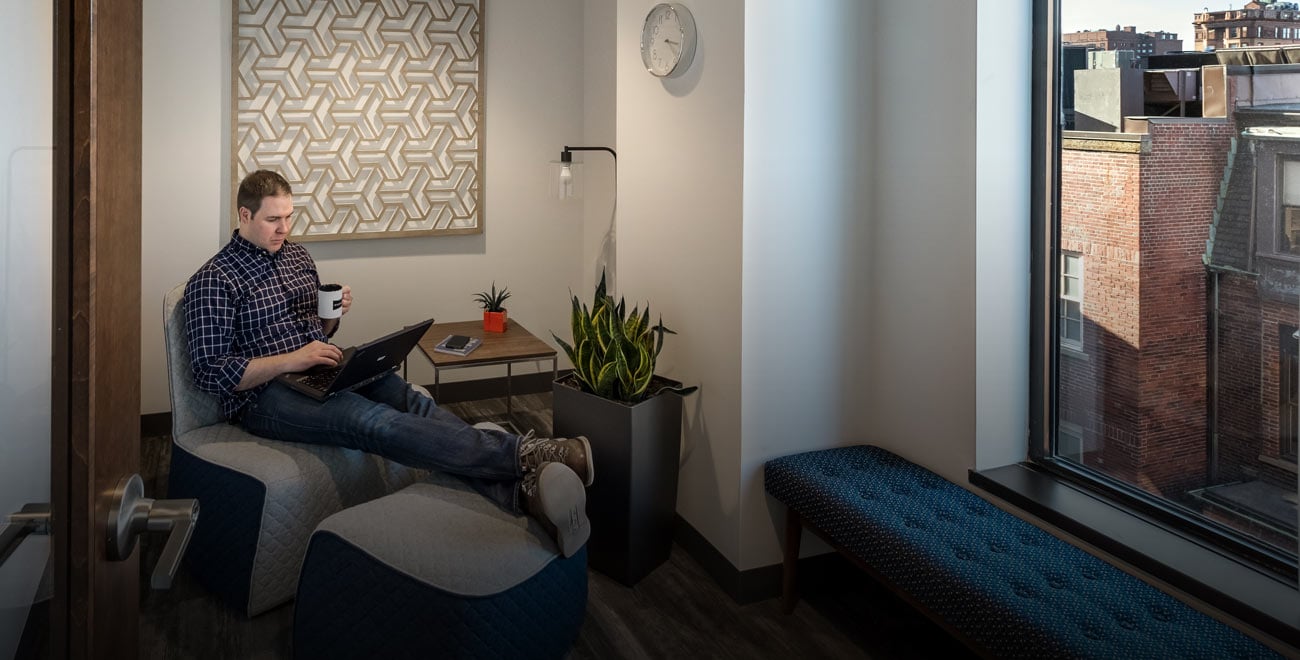 The 2020
Back-to-Work Guide
Key Resources to Help Employers and Employees Thrive in the Remote Work Boom
The office as we know is a thing of the past.
Today more than ever, companies are going through such a powerful transformation period it could very well be the beginning of a new era when it comes to managing talent, choosing workspaces, and defining the ever-blurring lines between work and life.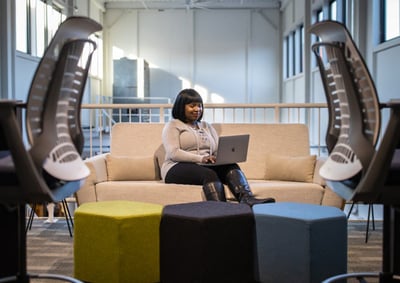 2020 will go down as the year where every employer, from the most progressive and innovative startup – picture a pet-friendly HQ and vegan snacks and unlimited vacation – to the old-fashioned company that runs on a 9-to-5 workday tradition, cubicles and lukewarm coffee, had to make significant changes to the way they work and manage employees. Most importantly, perhaps, they were all forced to give remote work a real chance.
As employees transitioned from working full-time at a company office to managing their workload from the coach, or at best, from their home office, companies had to adjust their policies and offerings to facilitate a smooth transition.
The reality is, no matter how modern or traditional the office was, there are many things workers used to get at work that they are now missing at home.
How can employers help?
A few months into the remote work experiment, both companies and professionals are more knowledgeable about what it takes to succeed when working from home, yet there are still many challenges to overcome.
From dealing with uncomfortable workspaces to social isolation, to having to balance work with caring for a child or a family member, for many workers, giving up their office spot meant a lot more than switching to a smaller monitor and skipping the commute.
However, as we become more used to working away from our teammates and staying productive in the midst of a rather unstable and transformative moment, there is great opportunity for innovation and creativity in the area of human resources and workspace management.
Now, how can companies ensure their staff is healthy, happy, and cared for without gathering them in a commonplace or even meeting them individually? That is the million-dollar question for HR professionals and thought workspace leaders around the globe.
Luckily, technology has allowed us to stay connected and in sync, in a time when it's smarter to be physically apart – and it has also given employers the opportunity to get creative when providing comfort and useful services to their employees.
The truth is there is a number of things our office had and our home lacks – but it doesn't mean we need to give them up entirely. Above, we have compiled a list of useful resources that can help employees feel more comfortable, productive, and appreciated while working remotely.
Productivity tools
If there is one thing the past few months have shown us is that your boss was wrong – your job actually can be done remotely. But that doesn't mean it will be easy to stay efficient and productive away from the office. Here are some tools and services that can help.
Access to a remote workspace or coworking memberships – As more and more professionals started working remotely for a long period of time, they quickly realized their home is often not the best place to do it. For employers, it is important to facilitate and support productivity, so ensuring employees have a quiet, safe, and well-equipped workspace even a few times per week becomes crucial. Workbar, for example, offers a wide range of product options designed to allow companies and professionals to access top-of-the-line wellness-focused workspaces as often as needed and across convenient locations. From full-time plans that give unlimited access to every Workbar in Greater Boston to part-time memberships with only a few days per week available, our options prioritize flexibility. READ MORE: The Rise of Remote Work
A techie care package – In the age of Zoom calls, remote board meetings, and frequent digital collaboration, having the right tools to stay connected while being apart is key. In recent times, many companies offered employees bonuses or gift cards so they can purchase useful gadgets such as headsets, laptop stands, webcams, mouse tracks, and more. If you want to go the extra mile, a nice care package with a variety of tech devices useful for your employees' specific needs would help them feel prepared and appreciated.
A refund or bonus for office furniture – Working from your couch, in front of the TV with your feet propped over the coffee table might be fun – for three days that is. Any longer and it will get in the way of your productivity, and most likely, your posture. Professionals who didn't work remotely pre-COVID have had to adjust to working from sofas, kitchen tables, or even the bed. If you know your employees will be living the remote life for a longer period of time, it might be worth offering a total or partial refund for any investment they make in proper office furniture such as a desk and a comfortable, ergonomic chair.
Wellness and Balance
Keeping a healthy work-life balance can be challenging even in a modern office. When working from home, the lines that define where work ends and home life begins are particularly blurred. Balancing extra work hours, home or child care as well as adapting to a new way of working for those not used to remote work, can bring stress and take a toll on people's health.
In a traditional work setup, companies often offer their staff complimentary yoga classes, a discount gym membership, or even on-site fitness facilities to help them stay healthy. Below we list a few small ways employers can replace those with digital, remote alternatives to help their staff keep balanced and well.
A subscription to Downdog – The Downdog app offers unlimited access to yoga, barre, HIIT, and other fitness classes for $ 7.99 per month. The subscription is very useful for busy workers as it allows you to set up the length and intensity of each workout and can be accessed from a mobile phone, tablet, or computer.
A membership to Headspace – A membership to the Headspace app is a great gift for workers, or anyone, looking to reduce stress and introduce mindfulness into their daily lives. For $12.99 per month, the subscription includes hundreds of guided meditations focused on different areas, from stress relief to sleep guidance.
Staying balanced, focused, and productive in the middle of a workplace transformation is a steep learning curve and it will take time. Adaptability is the key to success, and while businesses transition to this new reality, employee wellness and satisfaction become more important than ever.
Changes in the way we work, and the way we perceive work interactions will keep happening, yet what will remain a constant is the need to find the resources and tools that will help employees adapt to new work styles and demands, and ensure the transition is easier and more efficient.
Food & Drinks
Having snacks, coffee, and the occasional company lunch to fuel you and boost your energy always made workdays a little better. With offices around the country closed or operating with reduced capacity, most workers have not indulged in any of these perks in while. Luckily, there are easy ways to try to bring treats to remote workers. Here are some ideas:
A free subscription to Thrive Market – A nice way to treat employees is by giving them a free membership to an online food store. Thrive Market, for example, is an online subscription-based store where you can purchase organic, non-GMO, and sustainable products at a steep discount, and memberships start at $5 per month.
Replacing Friday lunches with a GrubHub order– Fridays were probably the best days at the office – especially in those offices where there are weekly or monthly catered lunches to celebrate the end of the workweek. This is a tradition that can be kept alive while working from home with a little creativity. HR directors or People Officers might choose to get staff lunch delivered to their home or remote workspaces on a specific day, and everyone can join a video call to enjoy it together.
A monthly gift card to Starbucks – Many of us have come up with a successful project idea over an afternoon coffee with coworkers. One of the downsides of working from home is not having that opportunity to informally catch up and brainstorm with colleagues while enjoying a tea or a cup of joe. It won't be the same, but coffee lovers would definitely appreciate it if employers would send a gift so they can indulge with their usual caffeine boost, even away from the office. Starbucks ' digital give cards make this very easy. HR staff can even upload a spreadsheet with employees' emails and the website will send them a gift card of chosen value automatically.