Workbar Partners with Accelerate, Wentworth Innovation + Entrepreneurship Center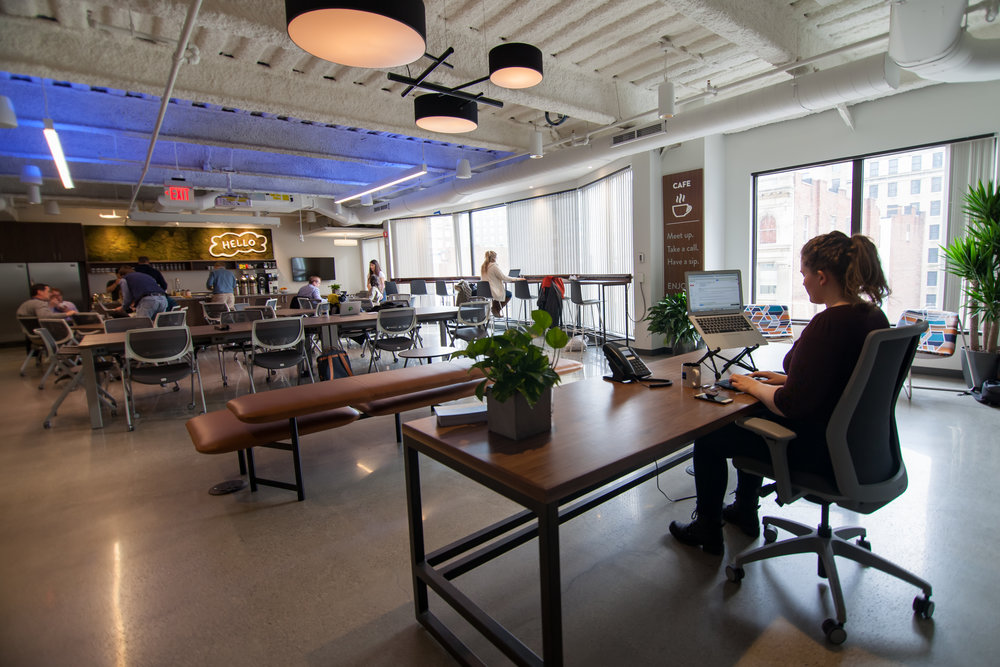 BOSTON - Accelerate, Wentworth Innovation + Entrepreneurship Center today announced a partnership with Workbar that allows Accelerate students the chance to immerse themselves into one of Boston's premier coworking communities and to propel their startup ideas forward. During this one-year pilot program, Accelerate students will have access to Workbar Back Bay's facilities, its member community and will be able to explore co-op opportunities with Workbar member organizations, among other benefits.
"This pilot installs a deliberate bridge from the educational community to the innovation/startup ecosystem in Boston and places Accelerate students into an environment where they see entrepreneurs in action," said Monique Fuchs, associate vice president of innovation + entrepreneurship at Wentworth Institute of Technology. "We are thrilled to have Workbar as Accelerate's first coworking partner and can't wait for our students to expand their networks, find potential mentors and advisors, get involved with member companies, and continue to build their entrepreneurial mindset and skills."
Additionally, Workbar will provide Accelerate with state-of-the-art meeting/event space to host programs such as HotSeat and PitchRound events, where student teams pitch their startup ideas to mentors and judges to receive advice, feedback and possible funding. Workbar will also host Accelerate ThinkTanks, such as the recent "Future of Our Cities | Converging Generations" ThinkTank. The event convened industry thought leaders, Wentworth students and faculty across disciplines to explore future societal challenges that cities will be facing.
"We're excited to welcome Wentworth Accelerate's young innovators to the Workbar community," said Devin Cole, Head of Community at Workbar. "As entrepreneurs ourselves, we know a strong ecosystem is all-important, creating opportunities for support, mentorship, beta testing, funding and new customers. By integrating Accelerate students into the Workbar community, Accelerate has put them in the best possible position to succeed, while also enriching our community with new ideas and energy."
The pilot program also includes mentorship and Workbar programming for Accelerate students, classes taught by Wentworth faculty that are open to members and a 10% membership discount for alumni.
"As businesses increasingly place a priority on experiential education, this pilot program between Accelerate and Workbar will catalyze the development of 'work ready' graduates that employers have come to expect from Wentworth students," said David Mareira, Wentworth Institute of Technology's Executive in Residence of Business Management.
ABOUT ACCELERATE, WENTWORTH INNOVATION + ENTREPRENEURSHIP CENTER
Accelerate, Wentworth Innovation + Entrepreneurship Center, was formed in May 2012 to build innovative thinking and entrepreneurial confidence among students impacting their career choices and success. The mission of the center is to prepare students with critical competencies for today's competitive work environment. The center's focus on experiential learning allows students to gain experience in idea iteration, prototyping, building confidence by taking risks with small projects and big ideas, see the bigger picture and solve real-world problems. The center promotes interdisciplinary collaboration and intentional networking among students, alumni, industry, and the Boston community. To learn more, visit http://www.wit.edu/accelerate/
About Workbar:
Workbar operates coworking locations throughout greater Boston (Boston Back Bay, Boston South Station, Burlington, Cambridge, Arlington, Brighton, Danvers, Norwood, Salem) and several other partner locations throughout the state. Want to keep up with the world of Workbar? Subscribe to our mailing list for the most up-to-date information about our upcoming events and community news. You can also follow us on Instagram, Facebook, LinkedIn and Twitter.