Health. Dental. Vision… Flexible work? Learn about the newest must-have benefit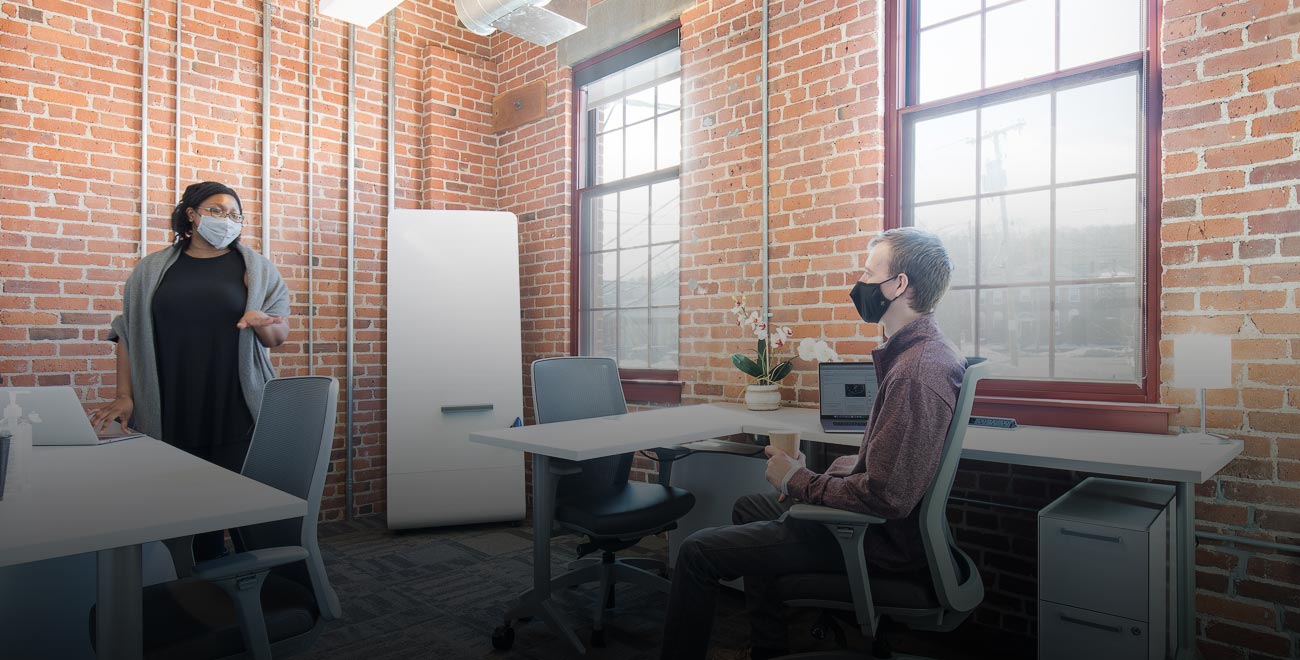 Health. Dental. Vision… Flexible work?
Learn about the newest must-have benefit.
It's been an, ahem, interesting year for workers like us. What will "going to work" look like in the future? Sometimes, it'll be commuting to the old office (if it's still there). Other times, it'll be slogging through in a makeshift home office. But what if, a third, purpose-built workspace became the better-than-the-best-of-both-worlds option… And your employer supported it, too? That's where the Workbar TeamShare plan comes in - but we'll get to that later.
Workbar has been a coworking pioneer for over a decade, because it's our business - and because we live it, too. Whatever you're going through: we've been there. However you've been making work work, imagine the benefits of a dedicated workspace - and consider how a hybrid approach to work would let you:
1. Get back together with your work friends
If there's one thing we've missed most over the past year, it's that water-cooler magic. That quick catch-up that turns into our next big idea. And don't get us started on how much we miss our work bestie/lunchmate. Finding new places to come together will lead us right back to those fruitful collaborations we're all craving.
2. Stay flexible
We've all been real champs through huge changes in the ways we've been called upon to work over the past year, and in return, we really want our workplace to repay us in kind with the flexibility we crave - along with respect for our new routines, and trust implicit in letting us choose how, when and where we'll work in this new era.
3. Keep your peace of mind
Unlike the corner coffee shop with its questionable music and WiFi - dedicated workspaces - like Workbar's - feature high-end HVAC systems with premium air filtration, cleanliness stations, thermal scanners, desk dividers and density trackers to give us the peace of mind we need to do our best work.
4. Get the most out of work's perks
It's no secret that the better the perks, the more there is to love about where we work. Stay on the lookout for employers that offer flexibility-based benefits, or encourage your company to consider offering progressive perks like passes that give you access to conveniently located coworking spaces - so you can work when and where you're most productive.
5. Take it all in
A great environment has the power to make us happy, and when we're happy, we do our best work. From mood-boosting natural light, to expertly engineered spaces that foster seamless collaboration to new avenues for networking: an amazing workplace is as much about the feeling it creates as the work it enables us to do. Having access to one that's super close to home? Now that's a real game changer.
6. Truly feel seen
We're all different. Whether our living situation makes working from home a challenge, or we've become accustomed to certain freedoms in the way we work and where we live, honoring our individuality with thoughtful working options shows empathy and makes us feel seen and appreciated - keeping us motivated for the long haul.
7. Have better boundaries
If the last year has taught us anything, it's that work-life balance comes from better defining the space between the two. By going off to a convenient workspace a few days a week, we can collaborate, socialize, and be productive - and return home refreshed and recharged.
If a flexible approach to work would make a big difference for your productivity and well-being, tell HR about Workbar TeamShare: a progressive perk that forward-thinking employers in and around Boston are offering as a benefit to their employees. This subscription-based package of all-access passes gives you and your colleagues access to all of Workbar's safe, beautiful, tech-optimized workspaces to use as you please. The program is instantly implementable and easily augmentable to suit shifting business needs.
This flexible benefit lets you work at any Workbar, any time, so you can meet up with coworkers, enjoy distraction-free heads-down work - or just get out of the house for an afternoon! This flexible work benefit is easily implemented so you can get right to work - your way.
Want your employer to get onboard with your new way of working? Forward this article.
RELATED POSTS WE THINK YOU'LL LIKE:
Safe. Secure. Modern. From 360º conference room cameras to presence tracking - Workbar's tech-enabled workspaces feature all the amenities you need to work safely and productively.
Read More →
Safe. Secure. Modern. From 360º conference room cameras to presence tracking - Workbar's tech-enabled workspaces feature all the amenities you need to work safely and productively.
Read More →
Safe. Secure. Modern. From 360º conference room cameras to presence tracking - Workbar's tech-enabled workspaces feature all the amenities you need to work safely and productively.
Read More →
10 reasons why a hybrid approach to work, works The easiest way to implement this approach right now. With office buildings sitting empty for months now, it's become clear that things are never going back to the way they were. Competitive employers are already planning what happens next. When it comes to work's "new normal"
Read More →