10 reasons why a hybrid approach to work, works (and the easiest way to implement it right now)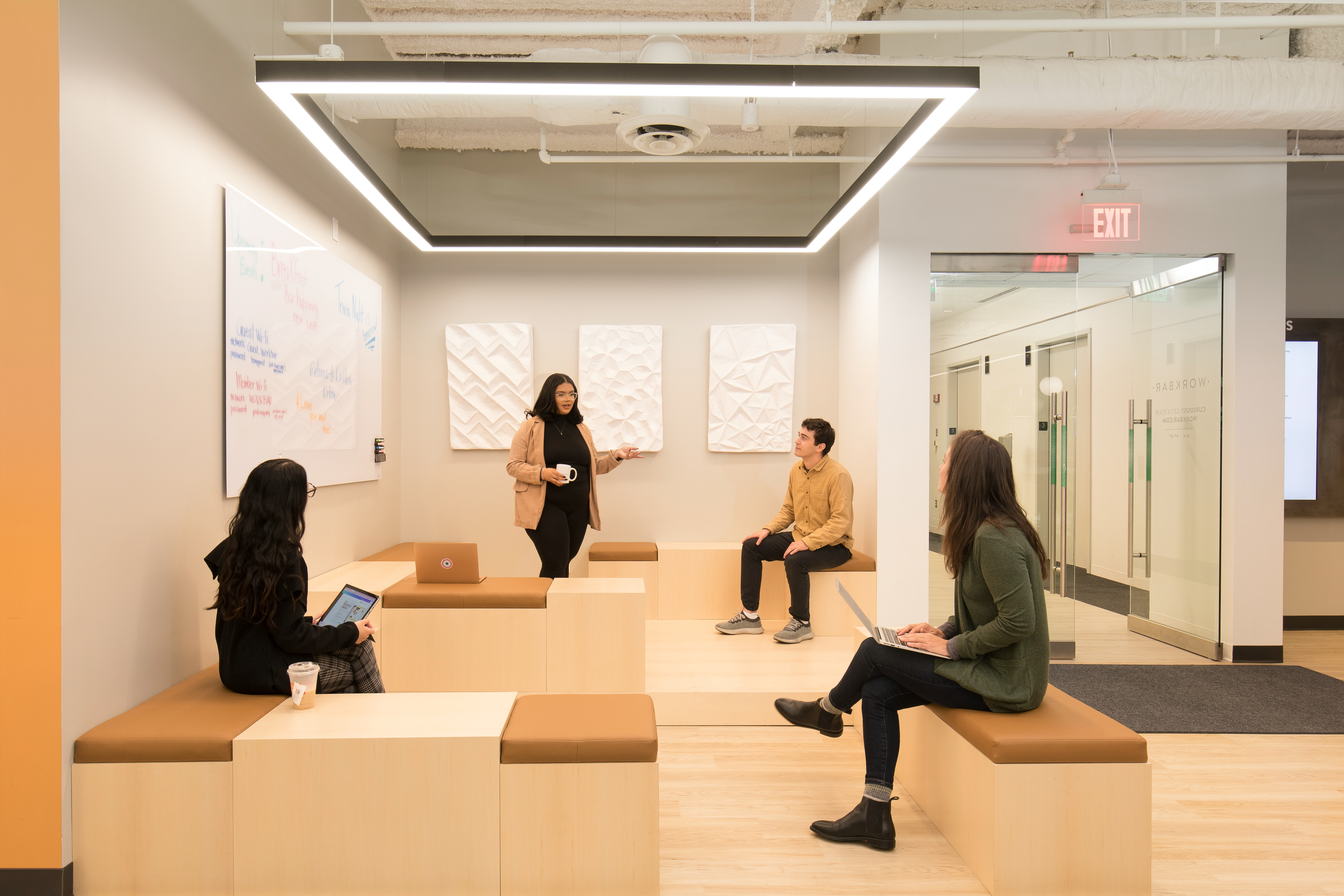 10 reasons why a hybrid approach to work, works
The easiest way to implement this approach right now.
With office buildings sitting empty for months now, it's become clear that things are never going back to the way they were. Competitive employers are already planning what happens next.
When it comes to work's "new normal" – for employees, it's all about having options. Sometimes, this will mean a trip into the old office (if it's still there). Other times, it'll be about slogging through in a makeshift home office. But increasingly, a third, purpose-built workspace is emerging as a better-than-the-best-of-both-worlds option that makes new levels of productivity and work-life balance possible, while slashing company overhead.
Savvy employers know just how valuable the flexibility of a dedicated workspace is for employees today – and how a hybrid approach to work lets employees:
1. Get the band back together
If there's one thing missing from the work-from-home model, it's that water-cooler magic. That off-the-cuff stroke of genius that spawns new ways of thinking. That inseparable-work-friend thing we all miss. Once the pandemic subsides, flexible spaces that allow groups to interact will reinvigorate vital collaboration and relationships.
2. Prioritize productivity
The right environment has the power to make people happy – and when people are happy, they do their best work. From easy collaboration, to heads-down, distraction-free working, to the lost art of meeting new people – a modern workspace is as much about the feeling it creates as the work it enables.
3. Stay safe
Workplace wellness used to be a buzzword, but today, it's an absolute must-have across the board. High-end HVAC systems with premium air filtration, cleanliness stations, thermal scanners, desk dividers and density trackers keep everyone safe. Dedicated workspaces are leading the charge in prioritizing the health and wellness of workers.
4. Work the way they want to
Let's face it, once this is all over, forcing everyone back into 9-to-5 at headquarters is going to be a big ask. Employees have been adaptable through huge changes in the way they work, and will expect employer flexibility in kind – along with respect for their new routines, and trust implicit in letting them choose how and where they'll work.
5. Never go astray
It's no secret that the better the perks, the more likely companies are to attract and retain top talent. Offering flexibility-based benefits will set forward-thinking employers apart. Modern work arrangements and smart support for remote employees are the type of progressive perks today's workforce is prioritizing when weighing their options.
6. Truly feel seen
Every employee is different. Whether their living situation makes working from home a challenge, or they've become accustomed to freedom in the way they work and where they live, honoring each individual with thoughtful options shows empathy and makes employees feel seen and appreciated – keeping them motivated for the long haul.
7. Break new ground
We're all figuring this new way of working out as we go. By supporting bold, new ways of collaborating, employers are enabling entirely new workstreams. Trailblazing teams and innovative workflows are sure to yield amazing results we can't predict yet, and will pave the way for whatever comes next.
8. Have good boundaries
Employees expect more work-life support by better defining the space between the two. Thoughtful employers are learning that employees need a safe, convenient workspace a few days a week, where they can collaborate, socialize, and be productive – and that lets them return home refreshed and recharged.
9. Stay well-connected
Sure, a lovely place to work is a fine perk – but without technology infrastructure to drive productivity with seamless integration, it's just another set of walls. From scheduling meeting spaces, to logging hours, to internet that just works, tech makes all the difference in a modern workspace – and enables true employee autonomy.
10. Stay ahead of the curve
Early adopters of coworking, remote work, and flexible arrangements have long known that being able to choose where and how they work makes a huge difference in job satisfaction and productivity. Today's circumstances have brought this movement forward at lightning speed and has created a surge in demand across industries.
Want to implement a hybrid approach to your workplace? Leading-edge employers in the Greater Boston area are supporting their workforce with TeamShare: all-access passes that give employees access to any Workbar, any time. This affordable subscription-based solution is easily implemented and can be continuously updated as business needs change.
RELATED POSTS WE THINK YOU'LL LIKE:
Health. Dental. Vision… Flexible work? Learn about the newest must-have benefit. It's been an, ahem, interesting year for workers like us. What will "going to work" look like in the future? Sometimes, it'll be commuting to the old office (if it's still there). Other times, it'll be slogging through in a makeshift home office. But
Read More →
Key Market Trends Everything Workers Really Value in an Employer is Changing. Here's What to Focus On. Office Life Might Have Stopped But Caring for Employees Should Not We are in the midst of a deep workspace transformation and the priorities of employers and employees have shifted completely in a rather short period of time
Read More →
The 2020 Back-to-Work Guide Key Resources to Help Employers and Employees Thrive in the Remote Work Boom The office as we know is a thing of the past. Today more than ever, companies are going through such a powerful transformation period it could very well be the beginning of a new era when it comes
Read More →
We want to make sure that you have access to all of our Workbar Live Sessions that help assist you with educational information from our wide range of panelists – and do so at your leisure. We are uploading all of our past sessions to make viewing easier for you. Check out our session with
Read More →