Safe. Secure. Modern.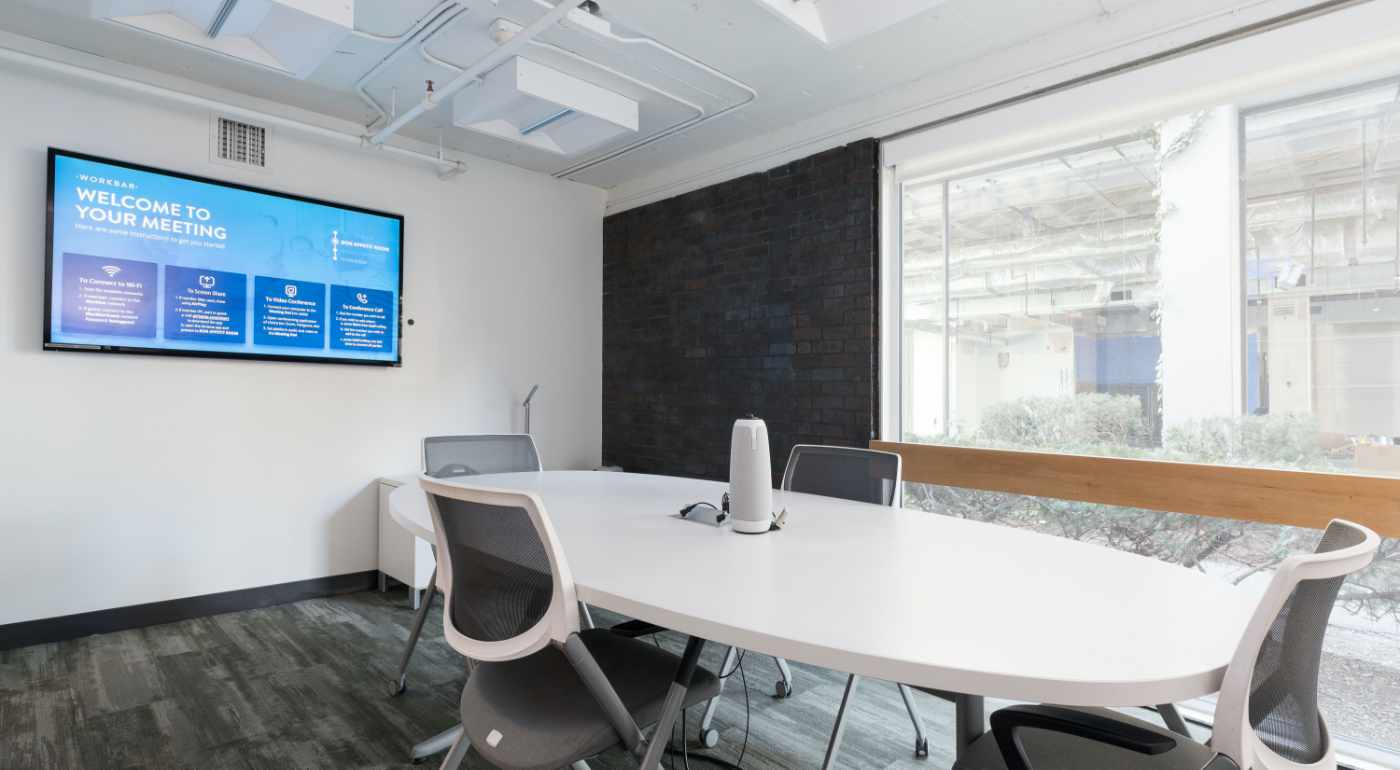 Safe. Secure. Modern.
From 360º conference room cameras to presence tracking – Workbar's tech-enabled workspaces feature all the amenities you need to work safely and productively
One of the hardest things about transitioning to working remotely is getting the right tech in place to make work simply work better. Sure, a basic internet connection is enough to get you started. Still, for modern, tech-based companies who require dynamic meetings, seamless conference calls, and safety-conscious precautions, a workspace that delivers makes a huge difference as remote work becomes a way of life.
Chief Technology Officer Greg Smith shared a few of the most important tech updates at Workbar – designed to keep everyone working efficiently, effectively, and without a hitch.
Fast. Reliable. Superpowered.
We've always had high-speed internet at Workbar, but now that all of our bandwidth needs have increased, we've implemented upgraded internet capacity and backup capabilities. Our connection is super secure and stable for unbeatable uptime and perfectly smooth video conferencing.
Work smarter
One key feature of our TeamShare Program is the ability to log on and check for available "seats" with presence tracking and see who else from your company is working, in real time. Specialized Workbar management software gives employers clear data reporting on who on their teams is working where and when so they can empower optimal productivity.
The dongle days are over
No more rummaging around for the right cable and connector to share your presentation on the conference room screen. We've set up our conference rooms with wireless screen sharing to make presentations easier than ever.
Safety first
As part of Workbar's comprehensive COVID safety plan, select locations feature touchless infrared thermo-scanners at the entrance to check members' temperature upon entry.
Get a better view
In an effort to support active collaboration among hybrid teams, we've upgraded our main conference rooms from standard "birds-eye view" of the conference table, recorded from the front of the room – to centrally placed high-definition 360º conference call cameras that dynamically show everyone around the table in their own box during video calls.
Your dedicated workspace should have all the amenities of a regular office – and then some. With powerful networking and collaboration tools, Workbar can do everything your office used to do, only better.
Contact a member of our sales team to learn more about how Workbar's tech-enabled workspaces can help you do your best work yet.
RELATED POSTS WE THINK YOU'LL LIKE:
10 reasons why a hybrid approach to work, works The easiest way to implement this approach right now. With office buildings sitting empty for months now, it's become clear that things are never going back to the way they were. Competitive employers are already planning what happens next. When it comes to work's "new normal"
Read More →
Health. Dental. Vision… Flexible work? Learn about the newest must-have benefit. It's been an, ahem, interesting year for workers like us. What will "going to work" look like in the future? Sometimes, it'll be commuting to the old office (if it's still there). Other times, it'll be slogging through in a makeshift home office. But
Read More →
Key Market Trends Everything Workers Really Value in an Employer is Changing. Here's What to Focus On. Office Life Might Have Stopped But Caring for Employees Should Not We are in the midst of a deep workspace transformation and the priorities of employers and employees have shifted completely in a rather short period of time
Read More →
The 2020 Back-to-Work Guide Key Resources to Help Employers and Employees Thrive in the Remote Work Boom The office as we know is a thing of the past. Today more than ever, companies are going through such a powerful transformation period it could very well be the beginning of a new era when it comes
Read More →