Workbar @ Staples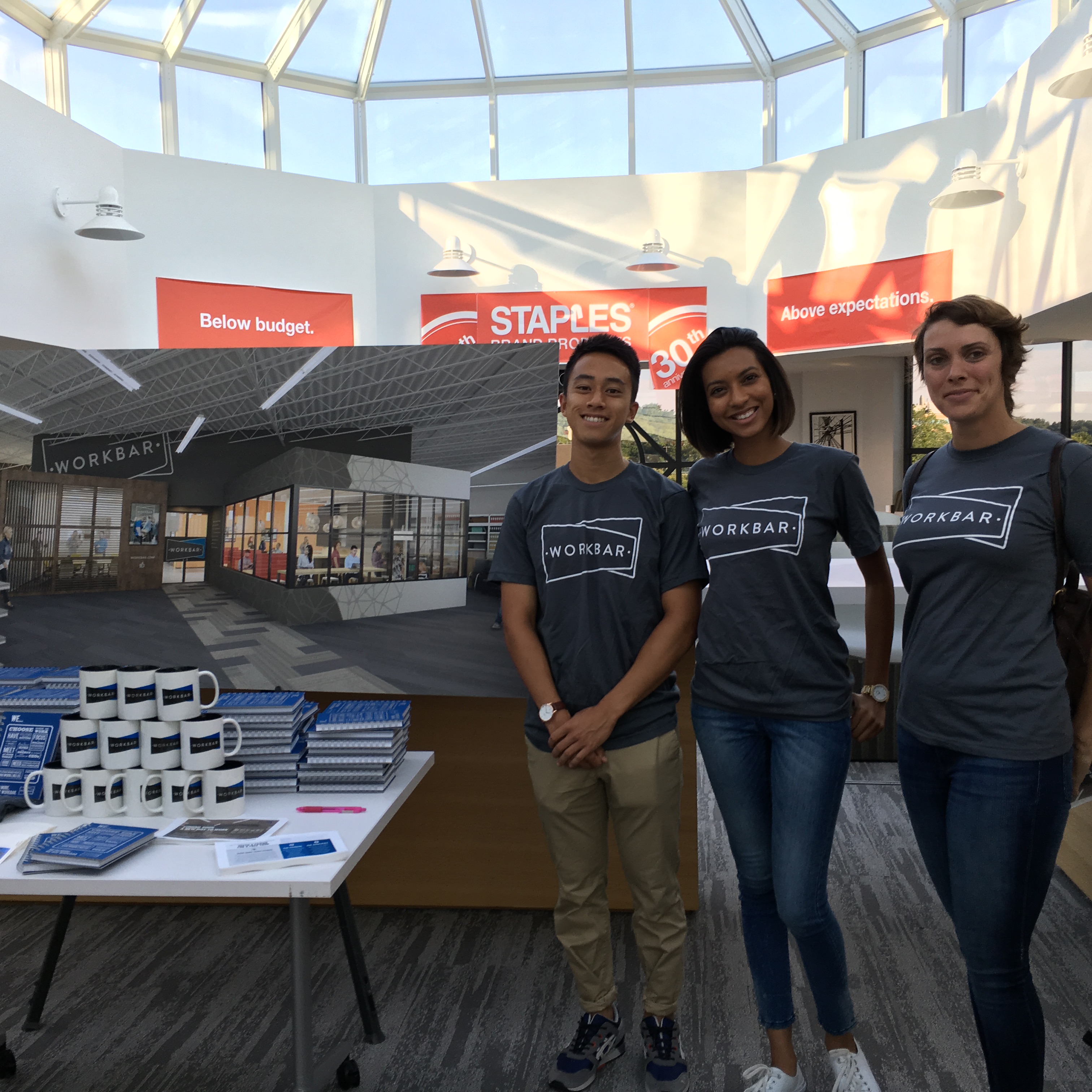 Today Workbar and Staples announced a collaboration to bring Workbar spaces to Staples stores. The first three Workbar at Staples spaces will serve as coworking and shared office space in Brighton, Danvers and Norwood – suburban 'Spokes' roughly North, West and South of Workbar's urban Boston 'Hubs'. I want to share my thoughts on how the Staples/Workbar relationship came about, how it fits with Workbar's plans and what it means to you, the Workbar community.
---
Try a Free Day at ANY Workbar at Staples Coworking Space
---
Workbar opened its doors in 2009 with the belief that the three most important elements of the modern office are a well designed space, convenient location and most important, a diverse set of people beyond your immediate circle you can get to know, simply by going about your workday. To support this belief, we created a mostly open-space floor plan, situated ourselves at key locations, and facilitated a regular set of business (work) and social (bar) events for members to enjoy. Workbarians did the rest and we've been growing ever since. But there has been a nagging problem we've been trying to solve – making our way of working available across the region.
Workbar started as a side project of mine while I was developing a tech company called PickupZone (no, not a dating site, but a package pickup business that was sold to Shoprunner in 2012). I live in Boston (Charlestown specifically), and over the years I've seen many friends move from living downtown to the suburbs. It hasn't been lost on me that if I moved out of the city during that time, I wouldn't have thought of Workbar as an option for PickupZone; it just would've been too hard to get here regularly. I doubt I'd want to pay a monthly membership fee for a 45-minute or more daily commute, each way, plus a parking charge – especially if I had a choice as to where I wanted my office to be located.
If Workbar is truly going to modernize the office experience, we need to start from the moment you leave your home. After all your commute is the first and last part of the daily office experience, so asking you to regularly travel over 30 minutes to Workbar just isn't acceptable. Not to mention long commute times aren't good for our planet or our health.
We started down a regional path by linking Workbar's urban spaces with independent local coworking spaces and university innovation labs across the region. Doing so formed a larger regional membership base, connected physically and digitally with the ability to enjoy reciprocal usage rights from one location to another.
Then about a year and a half ago Staples business leaders and I first began speaking about incorporating Workbar into Staples stores. Our first discussion lead to another, and another, and another, until today. In that process I've made some good business friends and we've all gained a mutual appreciation for the different aspects we bring to this collaboration.
A huge and obvious advantage of working with Staples is their many convenient locations with ample parking and extended hours. Less obvious is our shared view towards coworking. My Staples business counterparts believe as we do that having the right vibe in the space is the secret sauce; anything else is just shared office space.
This is a first of-its-kind relationship as far as I know. Naturally, there are many open questions both around a regional coworking network and how members will feel about walking through a retail environment on their way to the world of Workbar. The experience, logic and creativity of the entire Staples, Workbar and related design teams gives me great confidence as we come closer to opening, just take a look at the rendering!
No doubt we'll learn and adapt as we go, just as we have in the past. The best part is we'll do it working right alongside our members. As I was writing this, I was talking to longtime member Mary Adams about this next chapter. Her comment was, "I remember trying to work from a café or find a place for a meeting in the suburbs a few years ago. I wouldn't want to go back to that." Neither would I, Mary, neither would I.
Here's to new endeavors!
Cheers,
Bill