5 Big Branding Questions Your Company Should be Asking Itself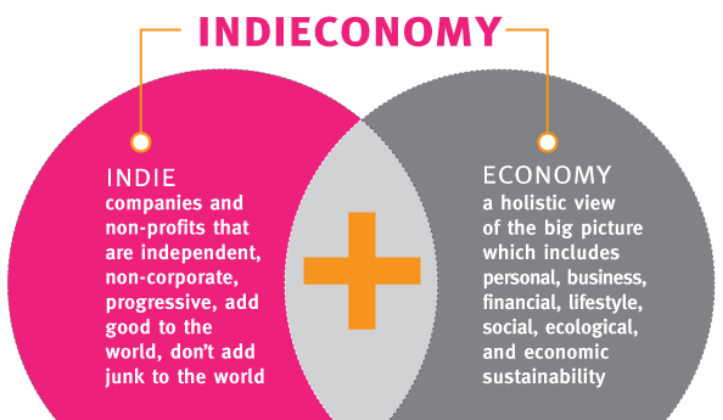 Next Thursday, June 18 we're hosting graphic designer, author, and independent consultant Annie Smidt at Workbar Cambridge. Annie will be talking and answering questions about DIY branding for independent companies, non-profits, and startups. She'll also be discussing why on earth she decided to write a book that, essentially, teaches people how to do the most lucrative part of her job themselves so they don't have to hire her. Copies of her book will be on sale at the event for $20 each, with 10% of proceeds going to Winslow Animal Sanctuary in Norton, MA, but you can also buy a copy online. Register to attend the event here.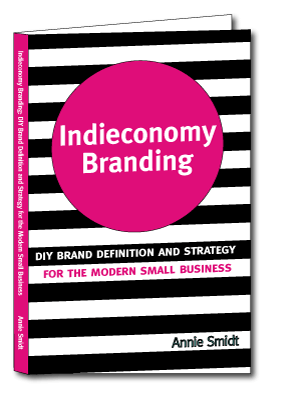 I just wrote a book about branding. Only it's not about creating a logo or a color palette, or a website or a "look and feel." It's not that I don't like that stuff or think it's incredibly important to get right — because I do, and designing those deliverables is much of my daily work. Rather, I think there's an overlooked foundation that needs to be built beforehand to make a flourishing program of brand communications. Before you start trying to influence others' perceptions of your company (and that's really all branding is!), you need to have an exceptionally deep understanding of what you're all about.
Whether you're just starting out, thinking about rebranding, or already have a brand and wish to give it a health checkup, here are the 5 most important questions to ask yourself (or discuss with your team) to make sure you are building or expressing the best brand you can.
But first- what is this indieconomy thing anyway? Indieconomy companies are businesses and organizations that care about adding good stuff to the world — from art, music, and design, to humanitarian aid, to products that make people's lives more delightful and services that make people's lives richer. These business are smallish or startups, and have at least a bit of a rebellious, can-do spirit. Their owners are smart, inspired, and inspiring. They're the people you want to collaborate and do business with.
1. WHAT ARE YOUR VALUES?
You might wonder if I mean your values or your company's values… good question! That's the place to start. Where do your personal (or your team's) values intersect with or differ from those that your company stands for? If there's a lot of disparity, there may be some problems you need to address before going forward. Happy indieconomy brands have their team totally on board.
And what does your company stand for? Do you have a vision or mission statement? Is it real and true and an actual useful guideline for operations? (If not, work on that.) Does your company "live" its values in a way that helps your audience to understand them more fully — or to relate to your brand because of its values? A great example of this is Tom's Shoes One for One program, or any other startup or non-profit you know that has impressed you by practicing what it preaches.
Brand values may seem like something you "just know" but trust me, a deep discussion and writing down some guidelines is going to help a ton when it comes to everything from your elevator pitch to your website UX design to deciding which activities your company should or should not participate in (aka branding!).
2. WHO IS YOUR AUDIENCE?
It might seem like a marketing or sales question, but it's a branding question to be sure. You need to know who you're talking to and what they like and trust in order to know how your brand should be designed and how it should operate. Among the questions to ask about your audience are:
How many audiences do you need to address? How do you customize how you talk to each?
What are their characteristics (in both demographic and more anecdotal senses)?
What is the ecosystem of other brands they exist in and what are those brands' characteristics?
Where do they hang out (online and IRL)?
Where do they get information and trusted recommendations?
How do they like to be communicated to?
What appeals to them (aesthetically, tone-wise, viscerally)?
3. WHAT IS YOUR SPECIAL SAUCE?
You need a compelling point of differentiation that you can articulate clearly. While this may be easier if you're a disruptive, category-inventing startup than if you're a humanitarian NGO in a crowded space, or one lawyer or developer amongst many, it's a non-negotiable for brand sustainability.
Even if it feels obvious to you in your own head, you need to be able to articulate your point of differentiation externally in a way that convinces well-suited audiences that you are offering them something they need — and that it's better than what they can get across the street. If you're a freelancer or consultant, what is it about your personal qualities, the way your work, your processes, or the results you give that makes you a good choice? If you have a product, what are the benefits that the competition doesn't offer? How can it make your customers' lives better? What can your brand promise?
4. WHAT IS YOUR BRAND'S PERSONALITY AND VOICE?
Whether your organization is one person or a team of 50, it has a brand personality. Your brand is going to be better if this personality is born of conscious decisions and projecting a certain image rather than just letting whatever comes out in the wash trickle all over your audiences.
Is your brand young and fun? Established and credible? Edgy? Shocking? Dependable? Quirky? Timeless? Trendy? Spiritual? Adventurous? Utilitarian? Luxurious? Spend some time and pinpoint your "words", and then set them out as guideposts by which you create verbal and visual communications. If you have a team, share and collaborate on this. Make sure your tweeters and bloggers and salespeople and your CTO giving a talk at a conference all know the way your brand speaks. Not a script, but a personality. An attitude.
5. ARE YOU AWESOME?
This might seem like a facetious or stupid question, but it is the actually the most important part of building a brand. Indieconomy companies don't put lipstick on pigs or sell products that fall apart or fail to communicate well or go around saying anything to make a buck. We have integrity and think it's normal to go the extra mile.
And guess what? Actually caring about your audience, giving to them generously, and serving them well is the way to create a successful brand in our modern economy. Sure, good design is important. A memorable logo and tagline will help you a lot. But if these symbols represent something that isn't awesome/authentic/valuable, they're not really worth anything.
In summary, here is how to create spiffy small business brand:
Make a company or non-profit that rules
Make sure you and/or your team understand it extremely deeply
Go on and make (or work with a designer to make) appropriate and compelling symbols to represent your company
Go forth and communicate, market, act, and sell with integrity
Is this way of approaching branding helpful to you? Let me know, and feel free to reach out with any questions via email at annie@durablecreative.com.
About the Author: Annie Smidt owns Durable Creative, where she is a strategist, graphic designer, and begetter of websites. She collaborates with startups, non-profits, and small companies, using design thinking to turn thorny conundrums into great design, products, communications and tools. She has an amazing dog named Mr. Sheep.
About Workbar:
Workbar operates coworking locations throughout greater Boston (Boston Back Bay, Boston South Station, Burlington, Cambridge, Arlington, Brighton, Danvers, Norwood, Salem) and several other partner locations throughout the state. Want to keep up with the world of Workbar? Subscribe to our mailing list for the most up-to-date information about our upcoming events and community news. You can also follow us on Instagram, Facebook, LinkedIn and Twitter.