A letter from the founder, Bill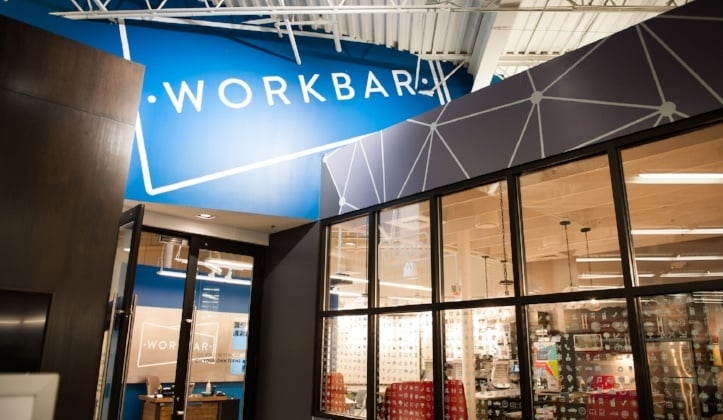 Founder's Letter
As you walk around the new Workbar at Staples space, I hope you are as excited as I am about this inspiring environment we have created together with Staples.
As an entrepreneur myself, I experience Workbar as a member every day. I drink the coffee, use the conference rooms, attend the evening events, and chat with interesting, energizing people from all types and sizes of businesses. In fact, I founded Workbar because I couldn't find suitable office space for my growing tech start up with the right amenities and vibe I wanted. And so I realized we are at an important inflection point in our culture:
THE PHYSICAL OFFICE IS CHANGING
No longer is a corner office with floor to ceiling windows and river views the ultimate in business achievement. Many companies are encouraging employees to work from home to save on expensive real estate. And solopreneurs need a productive space out of the home and its many distractions. Workers need flexibility –a place out of the home office to be more productive, a quiet space for 'heads down" work, and conveniently located spaces to meet with clients or to touch down between meetings. Workbar provides a solution, with high quality work spaces in a "hub and spoke" system of urban and suburban interconnected locations.
THE NATURE OF WORK IS CHANGING
According to the Pew Research Center self-employed Americans and the workers they hired accounted for 44 million jobs or 30% of the national workforce in 2014. People need new and more flexible ways to do their independent work yet still have a community interaction with a network of like-minded people. (We are social animals, after all.) Workbar offers a vibrant community that accommodates the professional needs and the interpersonal connections that are so important. Where else can you professionally meet a wide range of people outside of your industry or company? Workbar facilitates connections easily as part of the normal working day... through events, over coffee and even through our online member platform. And developing those interactions is as important for the modern worker as are the physical aspects of Workbar.
WORK AND LIFE ARE BLURRING
Our work experience starts from the moment we leave our homes, yet long commute times aren't good for the planet or our health. Having a work solution close to home facilitates a better quality of life and lets us make time for the important things in life. Sailing? Yoga? Family? Friends? Whatever your priorities and interests outside of work, having a work solution less than 30 minutes from your home will make you happier and healthier.
Enter Staples. They've spent 30 years building their business by helping their customers with the products and services they need to run their company. Today the newest service is coworking. We are now opening three initial Workbar at Staples locations in Danvers, Norwood and Brighton. Three additional spokes to our Workbar Network and Workbar Hub locations throughout the region. Members and guests will walk through the Staples store on their way to Workbar, but once there you will be at a separate, Workbar-staffed space filled with everything you've come to know and love about Workbar. This is a new way to work, where you can do more and enjoy it at the same time.
I hope you can join us, as we re-imagine work and the office experience to be the best that they can be.
Regards,
Bill Jacobson (Founder, CEO, and Workbar Member)
About Workbar:
Workbar operates coworking locations throughout greater Boston (Boston Back Bay, Boston South Station, Burlington, Cambridge, Arlington, Brighton, Danvers, Norwood, Salem) and several other partner locations throughout the state. Want to keep up with the world of Workbar? Subscribe to our mailing list for the most up-to-date information about our upcoming events and community news. You can also follow us on Instagram, Facebook, LinkedIn and Twitter.