Inside the Technology of Workbar: A Gallery of A/V Capability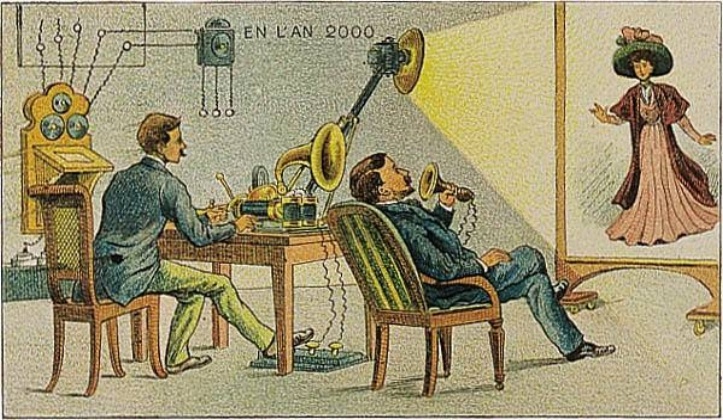 Workbar is the workplace of the future, with conference rooms and coworking spaces loaded with the latest A/V capabilities... and some old-school, super-useful ones like oversized Post-It notes. Here, in descending order of technological advancement, are the bells, whistles, gadgets and Staples (see what we did there?) that we supply so that you can do your best work, and like it.
Table of Contents
This small, wireless HMDI device plugs into any of our screens or projectors to allow hassle-free streaming, all without connecting anything into your smartphone or laptop. With Airtime, you can easily share content during meetings or teleconference in technicolor on the widescreen.
When no one is streaming, it has the nifty option of setting the default screen to a dashboard, website or anything inspirational or functional.
Our conference rooms feature the latest Ultra-high definition screens, which might have seemed like a bit of overkill a few years ago, but they have recently become the gold standard in video technology. More streaming services (like Netflix, Amazon, and Sony) are now offering 4k, and most people can tell a difference during presentations, content sharing, teleconferencing, or watching Stranger Things.
Epson interactive Smartboards are the high-tech integration of your computer, projector, a stylus pen, and a large, flat surface. What's on your computer shows up on the surface, and what you write on the surface magically makes it onto your computer.
Instruction, note-taking, content sharing, and brainstorming meetings get an interactive reboot with this addition to the hi-tech toolbox.
We make connecting easy in our conference and meeting rooms, with VGA, HDMI, and the full gamut of Apple TV capabilities like Airdrop and AirPlay. This allows easy wireless streaming of music, video, files or photos between Apple devices.
By the way, did you know that Herbert Hoover made the first video conference call with the president of AT&T in 1927? It would take several more decades until the first color Video Phone (1992) paved the way for the Virtual Room Video Conference (1997), which evolved into video conferencing as we know it and which remote workers use every day. Fascinating.
These all-in-one Logitech speaker and camera setups make video conferencing and tele-meeting a breeze. Mounting on top of the flat panel widescreen TV, the design and setup are intuitive and easy enough to master in the few seconds before your important meeting. With a wide field of view and HD resolution, they are the next best thing to being there... besides a telepresence robot.
The audio portion of the conference rooms' AV setup comes through Jabra Speak 410 Bluetooth speakers with wideband sound. Compatible with Voice-Over IP phones and deceptively loud for the their size, the small tabletop speaker can really fill the room. Whether boosting music during a presentation or bringing a conference caller closer, these speakers add a deeper dimension to the A/V experience.
The dual simultaneous HDMI outputs of this 7.2 channel multi-network receiver allow multiple computers to display on either the flat-panel widescreen or the projector.
Gone are the days of Dongle-juggling and laptop switching between presenters; this is a multi-channel receiver born to handle video (and crank out music, too.)
In the largest event spaces of Workbar you'll find a projector big enough for a movie theater. With a brightness of 7,000 lumens, it produces crisp images at huge sizes, so when you absolutely need to captivate a large room (like the Cambridge Cafe), accept no substitute.

These guys offer outstanding coverage of Workbar's open areas and high ceilings without booming or losing clarity. While most folks in the Study areas usually wear headphones, the Space & Community Managers stream something productive in the other areas, and it sounds right on these JBLs.
Voice-over IP phones look similar to traditional phones, but they bypass a "land" line and allow the user to make calls over the internet. If an organization can make the transfer from a "legacy" network (like we did), integrating voice and data into the same network allows 5-10 times the number of voice calls over the same bandwidth. Hello!

Many of the walls of Workbar double as brainstorming canvases, thanks to Ideapaint. This "grandchild" of the dry-erase board was invented by a Babson trio who were tired of hanging paper on their dorm room walls to sketch out ideas, so they hammered away at an erasable paint formula until the chemistry was perfected.
The most common uses for Ideapaint include flow charts, thought webs, and life-sized hangman. Today you can find it used on the office walls of major businesses like Comedy Central, MTV, the CIA and Workbar.
Thanks to the reported health benefits and improved design, the standing desk is enjoying a renaissance in the modern workplace. Early devotees of the elevated desk included Leonardo da Vinci, Ben Franklin, Thomas Jefferson, and Hugh Guiney, but you can find them in use all around the Workbar Network.

For those who enjoy the jumpstart of a little workout while they work, two locations have the desk solution: the treadmill desk and the stationary bike office chair (pictured right). Even the normally bleak WebMD can't say enough good things about them. Both can keep a workout schedule successfully on schedule during rain and snow.
Sure, the humble Post-it note sits pretty low on the technology totem pole, but it represents an aerospace technology failure (super-strong adhesive) re-applied to something as mundane-seeming as a bulletin board. These are also super useful for creative meetings, focus groups and job interviews. Workbar has all sizes, ranging from slightly bigger than a postage stamp to the size of a small bedsheet.
Did you know the first "low-tack, reusable, pressure-sensitive adhesives" paper was called "Press 'n Peel," and after a sputtering start and some marketing savvy, stuck with us in the modern office. Presto!
Dave Gentry is a fan of progress and recess. He believes in Olde English, new fortune cookies, and he answers to #davertido.
About Workbar:
Workbar operates coworking locations throughout greater Boston (Boston Back Bay, Boston South Station, Burlington, Cambridge, Arlington, Brighton, Danvers, Norwood, Salem) and several other partner locations throughout the state. Want to keep up with the world of Workbar? Subscribe to our mailing list for the most up-to-date information about our upcoming events and community news. You can also follow us on Instagram, Facebook, LinkedIn and Twitter.