Into the Cryptosphere: Panelists Give an Expert's Insight in the Applications of Blockchain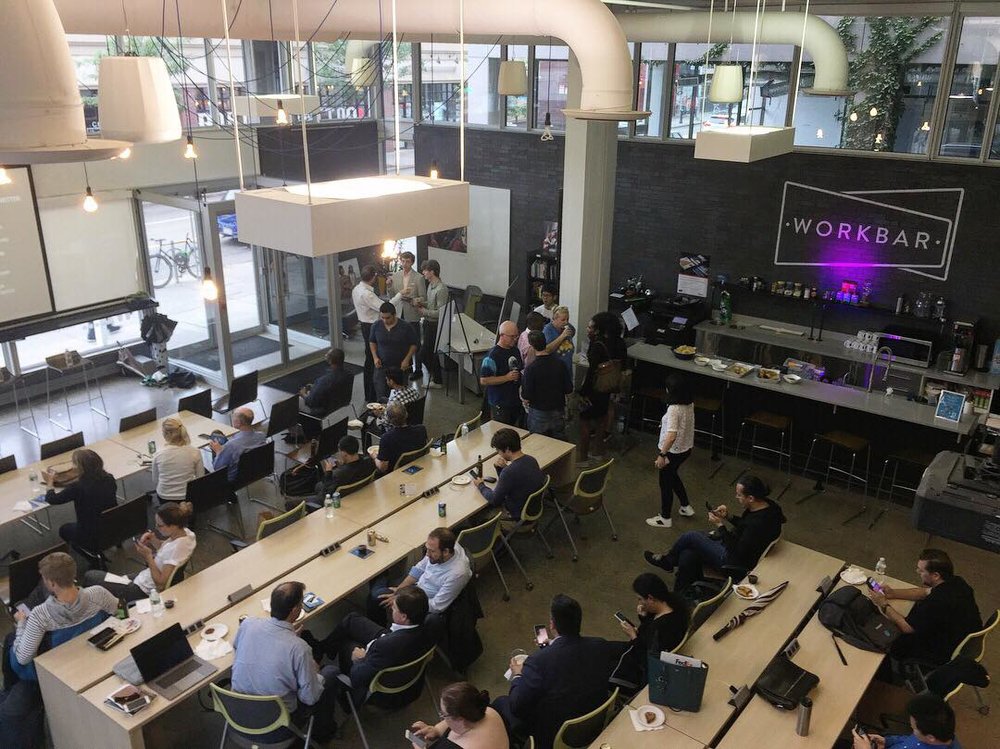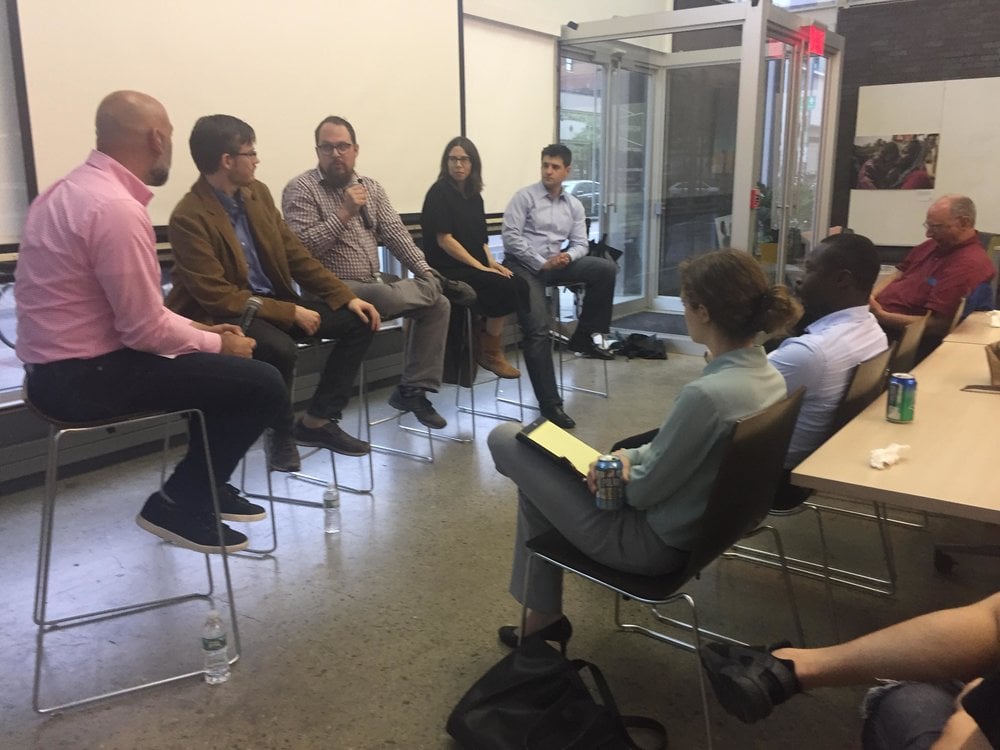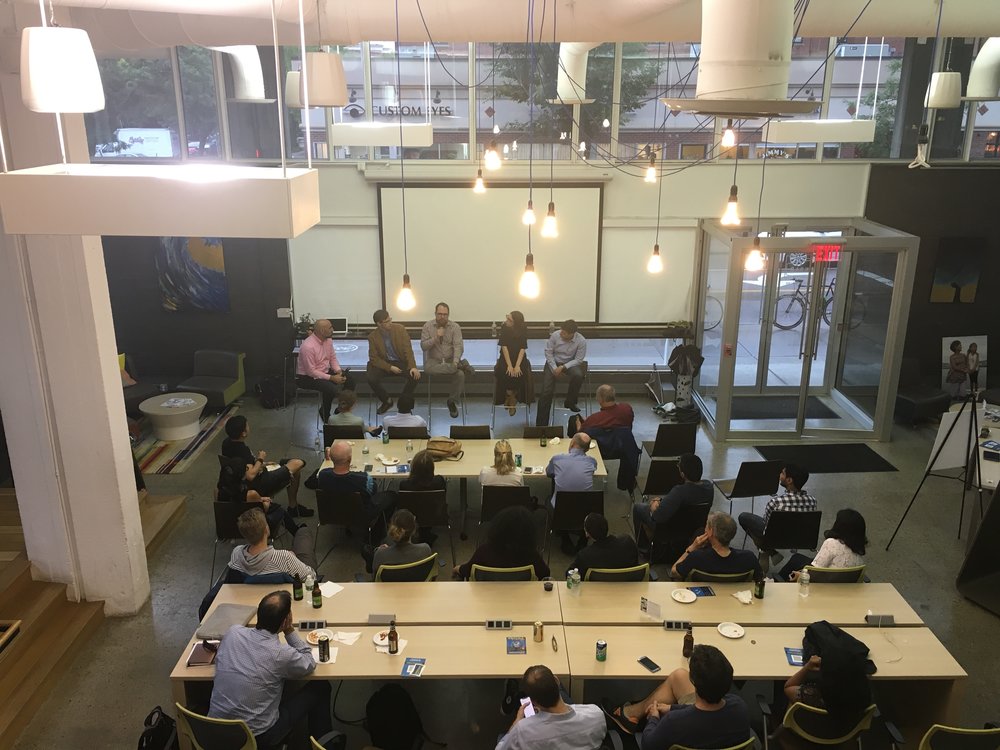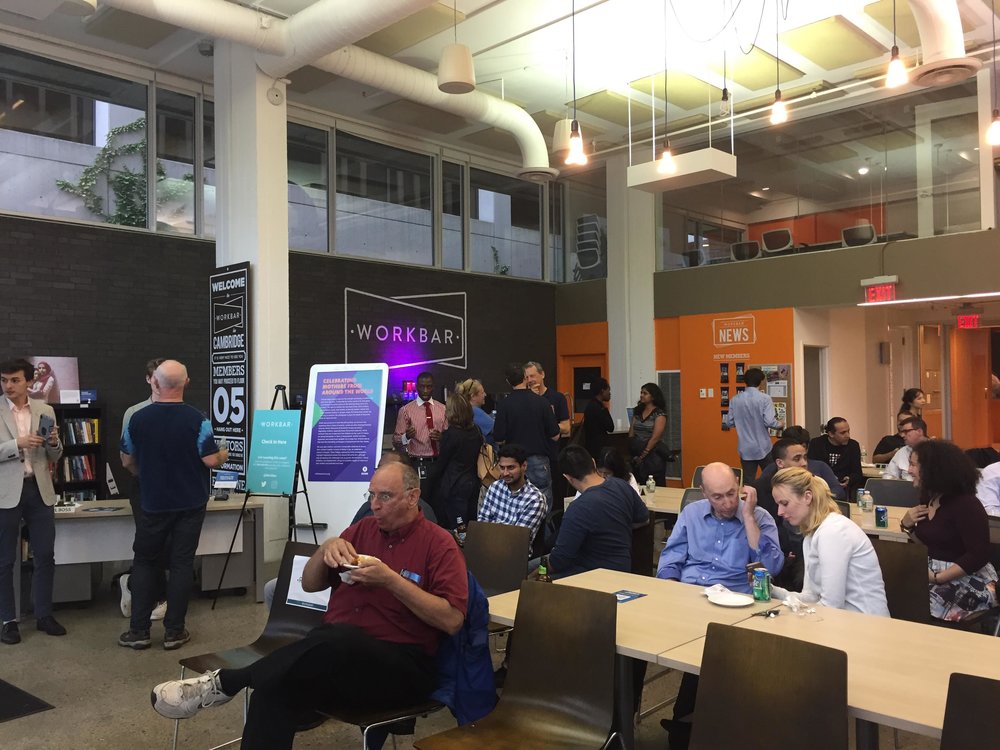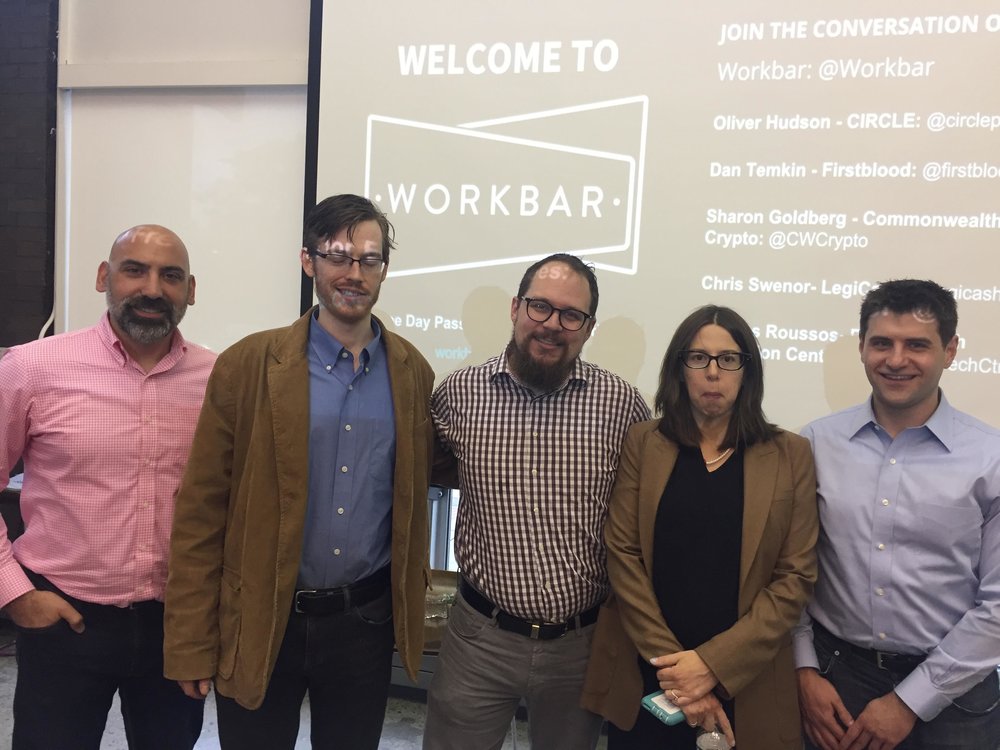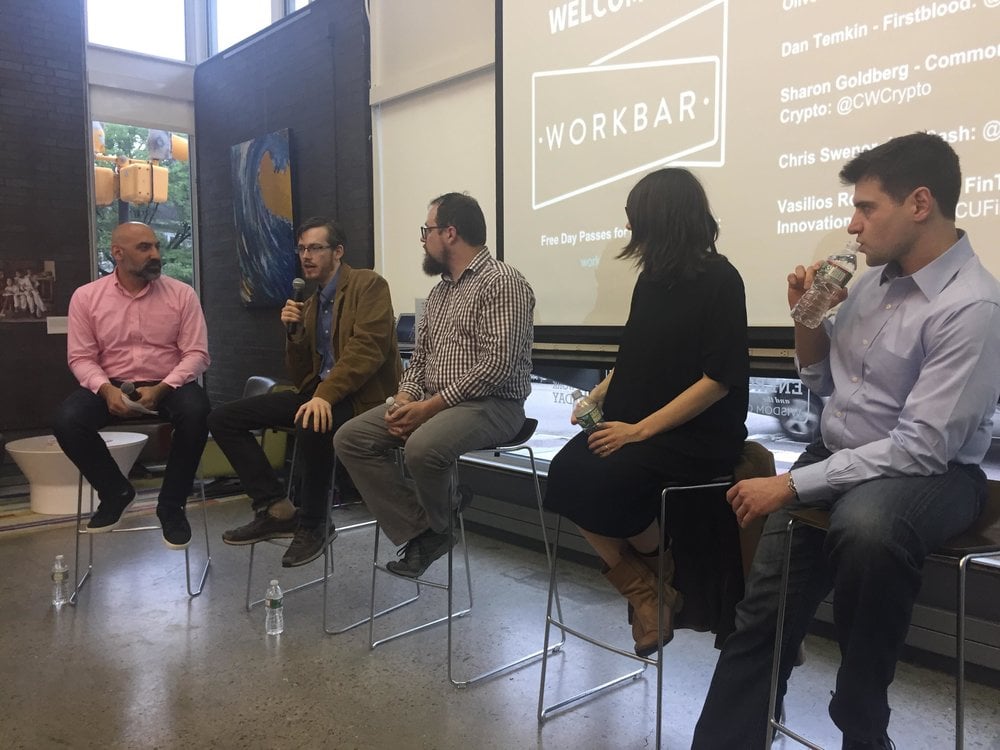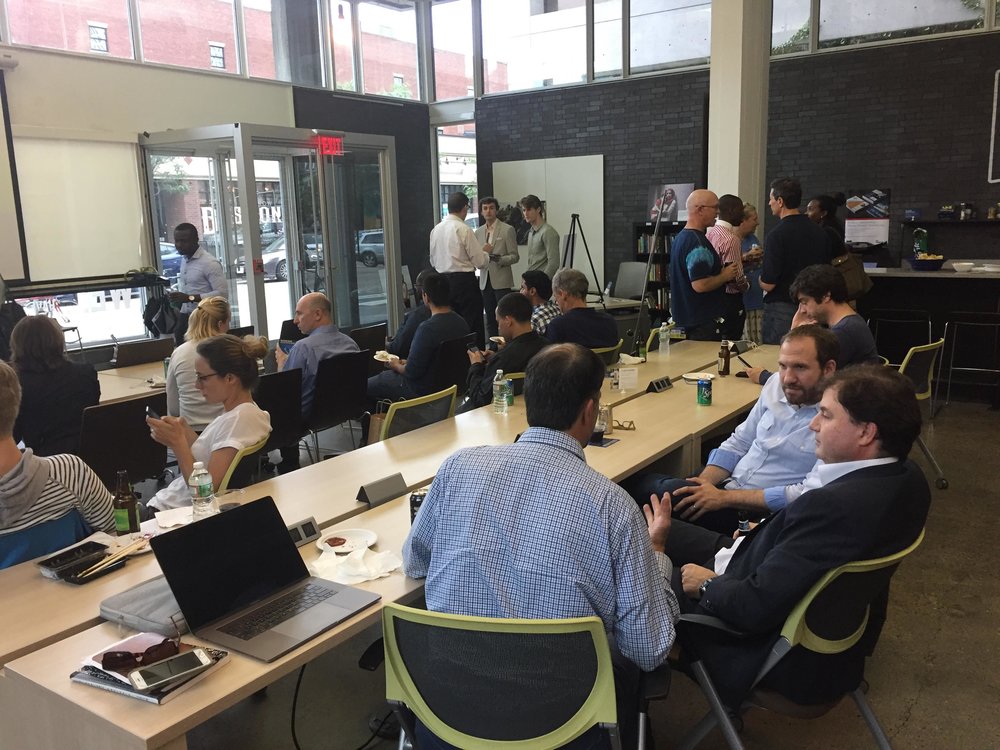 By John Wellers - DCU FinTech Innovation Center
The world of blockchain has spread throughout the financial world in the past few years and seemingly epitomized every startup's goal, disrupting an industry. With the flurry of news articles headlining "Bitcoin," there is no shame in feeling overwhelmed by the gale that Blockchain has blown through the complex world of transactions, and by the way it's changing how we do business.
During Workbar's monthly Speaker Series event last night, four panelists came together to break down the barriers to understanding Blockchain, the scope of its applications and the problems that it still faces. The event was produced in partnership with the DCU FinTech Innovation Center, a resource center that offers mentorship, workspace, a professional network, and community to FinTech startups.
DCU alumni Chris Swenor, Co-Founder and CEO of LegiCash, Sharon Goldberg, Co-Founder and CEO of Commonwealth Crypto and computer science professor at Boston University, Dan Temkin, Co-Founder of Firstblood.io and Oliver Hudson, Software Engineer at Circle who Co-runs the Boston Blockchain Meetup participated in the discussion that brought in a crowd more than 50 entrepreneurs and academics hoping to better understand Blockchain. DCU's Managing Director Vasilios Roussos moderated the panel.
What is Blockchain?
The night opened with a quick crash-course for the uninitiated. Sharon Goldberg explained that Blockchain is a transaction protocol on the forefront that fulfilled a few needs the financial industry had, anonymity, security, authentication to name a few. It did so by creating a public and immutable ledger that records and verifies all transactions without the need of third party involvement.
The panelists addressed a frequently asked question when it comes to this topic, the difference between Blockchain and Bitcoin. Blockchain is a method, like math, it's not a manifest like Bitcoin, in fact Bitcoin is an iteration of Blockchain like calculus is in iteration of mathematics.
What Can We Do With Blockchain?
This new protocol is far from fleshed-out, in all the excitement people have found lots of new and exciting ways to put it to use. Like the Smart Contract which, like most aspects of Blockchain, is a relatively simple concept but the execution has some very complicated variables and repercussions.
A Smart Contract is a legal contract on a Blockchain in which all financial items (typically cryptocurrency) are locked in upon signing the contract. They cannot be touched until an agreed upon event triggers the completion of the contract. Its value lies in its elimination of risk; all the assets involved are confirmed and locked in place until the contract is fulfilled, meaning you don't have to track down debts.
One panelist, in particular, was excited about Smart Contracts, Dan Temkin's company Firstblood.io uses them to place wagers on Esport competitions. Temkin is a lawyer for Firstblood who has been working out the legality of Blockchain transactions.
All four panelists agreed this was an exciting venture and one of the functions showing the most promise for the future of Blockchain.
Panelist Oliver Hudson, works with Circle, shared his experience working on another exciting iteration of Blockchain, stable coin. Stable coins are coins designed to be pegged to an already established value (i.e. USD). Circle is making stable coins on a 1:1 to the USD, so for every coin that is distributed $1 is deposited to a bank to back its value. This seems like "the easiest thing in the world" to quote an audience member, but there are a few difficulties that have prevented most programmers from creating their own stable coin.
Having a relationship with a large bank being the most obvious hurdle, that kind of relationship requires some clout that most startups just don't have yet.
What are the issues with Blockchain?
Blockchain is far from the perfect financial transaction system, there are a number of factors that have been preventing its mainstream takeover despite all the excitement around it in the finance industry.
Chris Swenor spoke to two of its shortcomings: scalability and interaction with the real world. Swenor posed the issue of scalability, "Bitcoin can do 7 transactions a second, Ethereum can do 14-20 depending on who you ask, Visa and Mastercard can do 24,000."
Until Blockchain can handle the same kind of large-scale participation that our current system can, it will always remain in the realm of future-tech.
Interactions With the Real World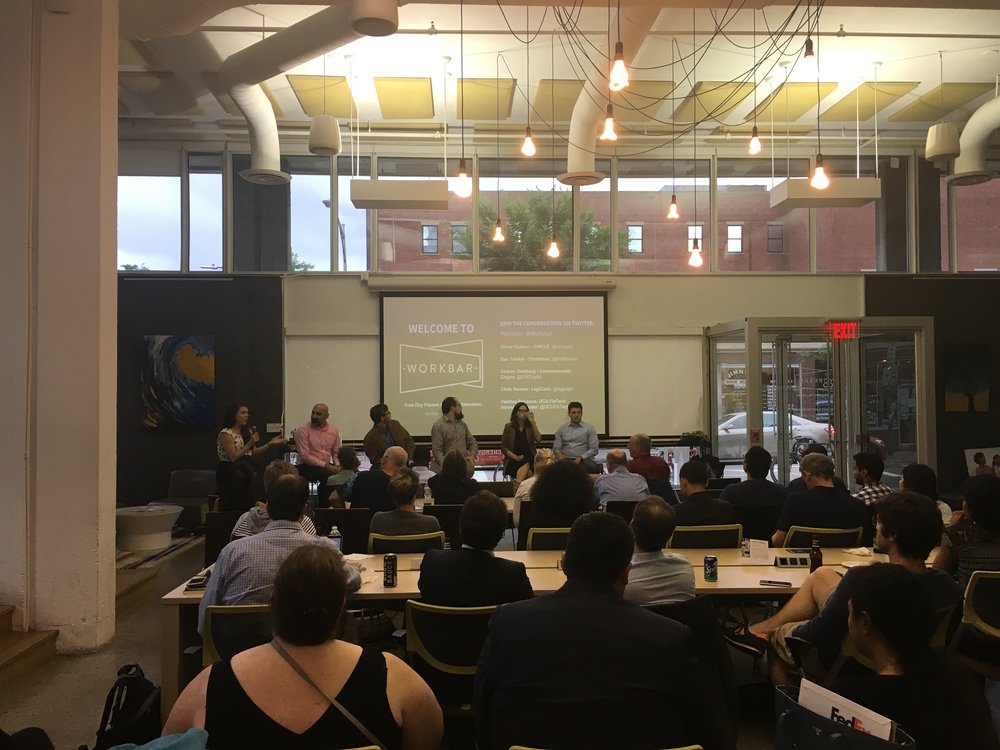 Interaction with the real world is an issue that comes up when the Blockchain protocol is expended past the coin-based, money-centered world. Since Blockchain is simply a protocol there shouldn't be anything stopping it from running all sorts of transactions.
In fact, Walmart and IBM are working together on a Blockchain to track their supply chain, a public and immutable ledger would allow them to verify all their transactions and track any errors back to their origin point. However once an object isn't money (coin), in other words, once it becomes something external to the algorithms of Blockchain, verification rears its ugly head.
There is nothing stopping anyone from lying to the Blockchain about their goods. Coins don't have this issue because you can only spend coins if you have them, but if the product being transacted is, say, a painting, then who is to say you actually have that Rembrandt?
A very hands-on discussion with plenty of audience interaction, the panel was a successful, informative and entertaining, featuring a collection of some of the leading minds in the Blockchain local environment.
Workbar Speaker Series is a monthly event that connects local innovators and leaders in the Boston community and offers an interactive space for discussion, conversation and networking. With different topics and speakers each session, the event looks inspire attendees with insightful contributions and to create a positive footprint in the innovation scene.
About Workbar:
Workbar operates coworking locations throughout greater Boston (Boston Back Bay, Boston South Station, Burlington, Cambridge, Arlington, Brighton, Danvers, Norwood, Salem) and several other partner locations throughout the state. Want to keep up with the world of Workbar? Subscribe to our mailing list for the most up-to-date information about our upcoming events and community news. You can also follow us on Instagram, Facebook, LinkedIn and Twitter.