Moving on Up- How to Maximize SEO and Boost Your Business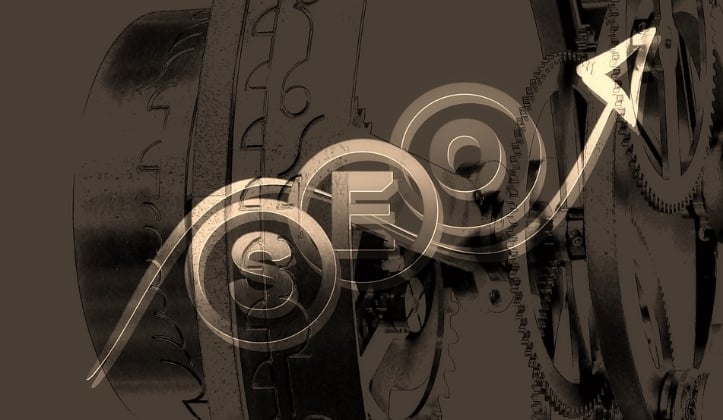 Like a vine reaching towards light, the competition for high-ranking placement in search engines is a matter of (business) survival. Which explains why Dale Bertrand, owner of Chimaera Labs, drew a thick crowd to Workbar for his event, "Intro To Search Engine Optimization."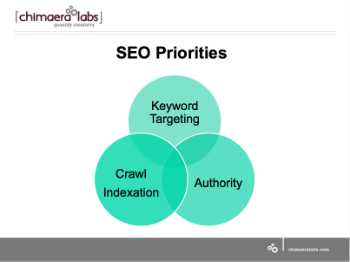 "We help tech companies build their sales pipeline," read his first slide. The next hundred or so detailed how search engines navigate the complex topography of the internet, and the best way businesses can use (and make) virtual signposts to themselves along the way. SEO consists of a trinity of factors: Keyword Targeting, Authority, and Crawlability. Moving on up in the search engine rankings is the art of understanding the interplay and connectivity between them.
1) Crawling and Indexation.
Automated crawling programs are the scouts of search engines, finding and indexing (and then ranking) the pages of the internet. Google crawls in decreasing order of page rank, and part of that rank depends on an iterative program that builds (or breaks down) the innate rank of every page. Depending on how many other links point to it, and how well those pages themselves rank, a page can gain or lose rank. This rank also indicates a trust factor, as the more "hops" away from a trusted seed site, the higher chance of getting spam. The top components of google's ranking algorithm are 1)trust/authority of the host domain, 2)link popularity of specific page, and 3)the anchor text of external links to the page.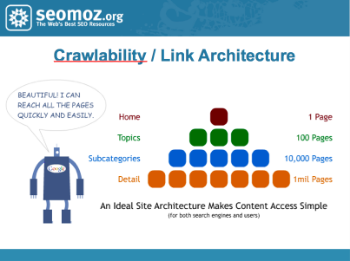 "Crawlability and Link architecture" means the extent to which a site makes content access simple. In addition to reducing the number of clicks to reach your content, Bertrand also warned against duplicate content. Google is searching for The Original, and if you have a duplicate from somewhere else, it hurts your ranking. When crawlers find duplicate content, a program checks for duplicate sites, determines which is the original, and throws out the rest. This algorithm favors original content, a theme that would come up a few times in this talk.
Additionally, it behooves a site to have search-friendly urls with a "single domain name, shallow folder structure with relevant words, and keywords in page name, separated by hyphens." Think this, www.nationalgeographic.com/animals/african-elephants, as opposed to this, Xyz3.nationalgeographic.com/a/?q=31z&mg=vv7z&sd=8.
Good keyword usage in the image alt tags does make a difference, while meta keyword tags do not. However, he added, those same meta keyword tags can be used to see what your competitors are trying to rank for, tipping their hand and helping your attempt to rank higher against them.
2) Keyword Targeting
The second SEO priority is a tough juggling act. The trickiest part of keyword targeting is the tradeoff between volume, competition and relevance. Long-tail keyword searches account for over 80% of queries, have low competition, and a high conversion rate. However, they are also like shooting in the dark, an attempt at guessing what strings of words might get typed into the search field. As a rule of thumb, four-word keywords have the highest conversion rate. Doing competitive research can help immensely with this, and Bertrand suggested Google (webmaster tools, analytics, keyword planner), SpyFu, Keyword Spy, or Moz.
3) Authority and Link Building
The third sphere of SEO priorities is the most elusive. Despite shortcuts advertising the contrary, internet "authority" on a topic is still best grown organically, and not purchased. Buying cheap links or SEO packages is a trap. This dubious goosing of one's rank might provide a short-term spike, but usually results in a drop-off thereafter, when algorithms see through your attempt at buying authority. Instead, Bertrand suggests eight basic kinds of link building.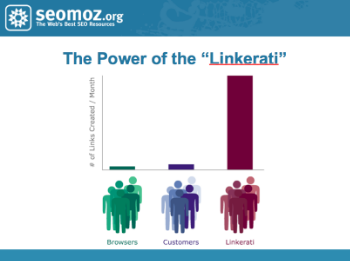 - The Linkerati. The major influencers on the web account for a disproportionate amount of traffic, and your authority surges ahead by cultivating relationships with them. Bloggers, journalists, and maintainers of links pages sit at the helm of web traffic like sea captains. "Don't hope for Linkerati," coached Bertrand, "seek them out. Email a pitch to bloggers or university administrators, since they care about their audience. Granted, you have no control over what they actually do, but there's a chance they will accommodate your link, if it's good. University library study guides are very good for link building. Pitch it like this, 'If you think your students would benefit from this article I would appreciate if you put it up on your page.'"
- Manual. "Hey dude. Can I have a link?" This is not very scalable, but can result in high link quality.
- Competitive link research/ acquisition. "Tim's site is awesome. I want one like it." This is too tedious to be very scalable, but can be effective in emulation.
- Links via embedded content. (ie. widgets, badges, other embeddable content) Twitter uses this to be one of the most linked-to sites on the web. This technique is both scalable and high quality.
- Linkbait and viral campaigns. Viral content is the chimerical Holy Grail of SEO, naturally drawing links from other sites. Scalability is wily, though, because viral content difficult to predict and craft.
- Content, technology and API licensing. Creating licensed content is difficult, but very scalable and high quality.
- Partnerships, Exchanges and Trades. "If you link to me, I'll get you on our blogroll." Reciprocal link building is popular with real estate sites, for example, and can have decent scalability and link quality.
- Paid Links. "I'll pay you $100 to link to my site in your sidebar." Yes, this is very scalable, but the low quality links can potentially backfire.
- Link reclamation. These are the SPCA rescue dogs of the internet: abandoned, requiring some manual effort, but very rewarding. Find links to broken or out of date resources (on your page or others) and fix them up. Use a tool like Top Pages from SEOmoz labs to find pages that are 404/50x on competitor's sites and offer your link instead. Or, using google's webmaster tools, you can identify the pages on your own site that are issuing errors, and fix or 301 them to "reclaim the link value."
All images courtesy of Dale Bertrand. All proceeds from ticket fees went to local non-profit BUILD, which provides entrepreneurship-based, experiential learning to ignite the potential of youth in under-resourced communities and equip them for high school, college and career success.
About the Author: Dave Gentry is a fan of progress and recess. He believes in Olde English, new fortune cookies, and he answers to #davertido.
About Workbar:
Workbar operates coworking locations throughout greater Boston (Boston Back Bay, Boston South Station, Burlington, Cambridge, Arlington, Brighton, Danvers, Norwood, Salem) and several other partner locations throughout the state. Want to keep up with the world of Workbar? Subscribe to our mailing list for the most up-to-date information about our upcoming events and community news. You can also follow us on Instagram, Facebook, LinkedIn and Twitter.