US2 And Workbar Announce Partnership To Offer Shared Coworking Space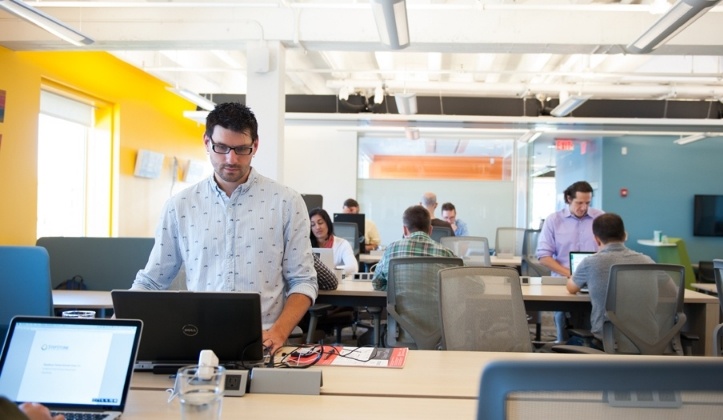 Photo by Tiffany Knight
Union Square Station Associates (US2), the City's master developer partner for Union Square's revitalization, and Boston-based coworking space network Workbar announced today that they have partnered to bring their membership-based coworking network to Union Square.
The US2-Workbar partnership will operate a shared workspace at 31 Union Square, the former home of Elegant Furniture which closed last fall and has been vacant since. For its local headquarters, US2 will locate its offices within the coworking space. US2 announced in March that the 2,500 square foot ground floor space will be staffed by a full-time US2 representative who will be available to field questions and provide general information about the Union Square revitalization, and will serve as a central hub for the recruitment of office tenants to fill commercial space in the new development.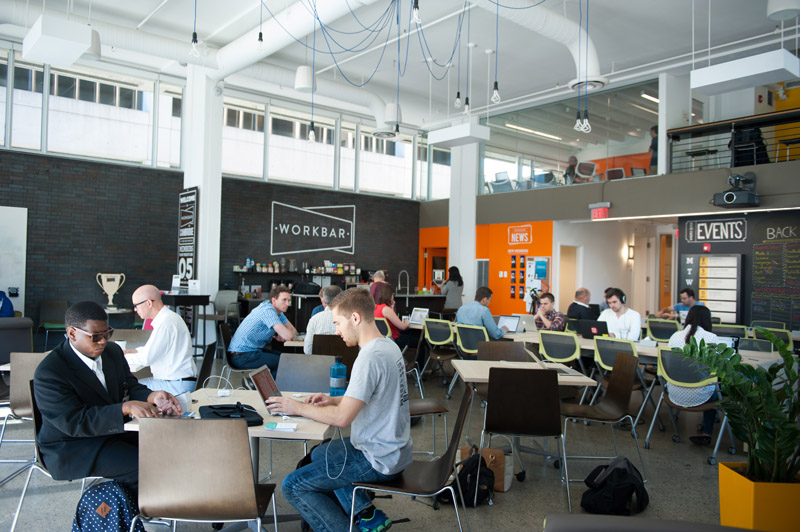 "US2 is pleased to partner with Workbar to provide real value to the neighborhood's start-ups, entrepreneurs, creative community and professionals," said Greg Karczewski, president of US2. "Workbar is a homegrown company that has a strong reputation for building community both inside and outside its walls. Our partnership is an innovative way to bring more vitality and commerce to Union Square and jumpstart its revitalization, helping both new and existing businesses."
The partnership will provide Somerville residents with access to shared workspace, conference and meeting rooms, event space, fast and secure wi-fi, and other common office amenities. Workbar also offers a wide variety of social and educational programming including lunch seminars, workshops, networking events and happy hours.
Made up of thriving start-ups, creative entrepreneurs, independent professionals, and enterprise teams, the interactive and collaborative atmosphere of Workbar gives members access to all of the resources their businesses need to grow. Members enjoy a motivating and productive work environment and a strong network of friendship and support from a vibrant community full of professional and social connections ready and willing to help each other build, create, and grow.
"Our partnership with US2 will allow us to extend the Workbar Network of coworking spaces to Somerville, providing local startups, small businesses and remote professionals the ability to grow their enterprises and collaborate with other entrepreneurs," said Bill Jacobson, Founder & CEO of Workbar.
"The innovative partnership between US2 and Workbar is a promising development for Union Square, and is a serious step toward fulfilling our community's vision of the neighborhood as an employment center that will attract innovation jobs and spur our local economy," said Steve Mackey, president of the Somerville Chamber of Commerce.
Workbar currently has locations in Boston and Cambridge and a network of partner spaces across Eastern Massachusetts. It serves over 800 members from more than 400 different businesses. US2 and Workbar expect to open the new Union Square facility this summer. Learn more about Workbar Union by visiting http://info.workbar.com/union.
ABOUT US2:
Union Square Station Associates (US2) is the City of Somerville's master developer partner for the state-approved Union Square Revitalization Project that includes over 15 acres of redevelopment near the future Union Square MBTA Green Line Station. US2 is collaborating with the community to create a vital and viable redevelopment plan for Union Square that realizes the community objectives as laid out in Somerville's long-term plan, SomerVision. These objectives include making Union Square into a destination for employers, creating public green space, achieving housing goals with a range of affordability, and preserving the historical character and authenticity that everybody loves today.
For more information on US2, visit www.us2unionsquare.com, or follow us on Twitter at @us2unionsquare and on Facebook.
About Workbar:
Workbar operates coworking locations throughout greater Boston (Boston Back Bay, Boston South Station, Burlington, Cambridge, Arlington, Brighton, Danvers, Norwood, Salem) and several other partner locations throughout the state. Want to keep up with the world of Workbar? Subscribe to our mailing list for the most up-to-date information about our upcoming events and community news. You can also follow us on Instagram, Facebook, LinkedIn and Twitter.