Workbar Holiday Open House: A (co)working Lunch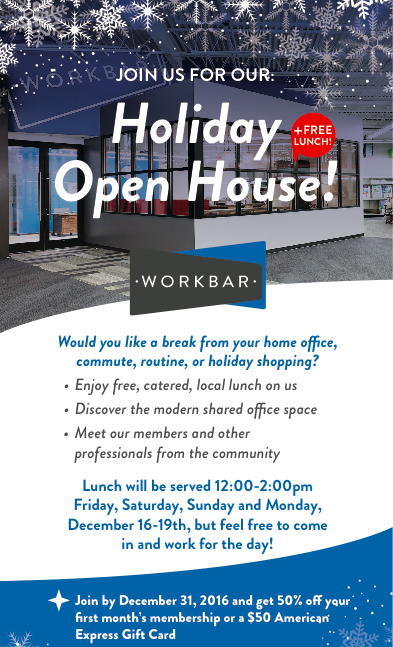 Your home office probably isn't going to throw you an office party... so we will!
During the season of giving, Workbar is hosting a Holiday Open House in their Arlington, Somerville, Brighton, Norwood and Danvers locations. With free lunch provided by local eateries and a chance to meet like-minded professionals from the community, the event is an opportunity to sample the experience of coworking with Workbar. Beginning Friday, December 16th, and continuing every day through Monday the 19th, you can come by on your lunch break or over the weekend- any time between noon and 2pm.
In case you were wondering, here is the breakdown of local restaurants:
To get more information about this offer, click here, study the flier below, or contact us directly.
Happy Holidays and we hope to see you soon!
Workbar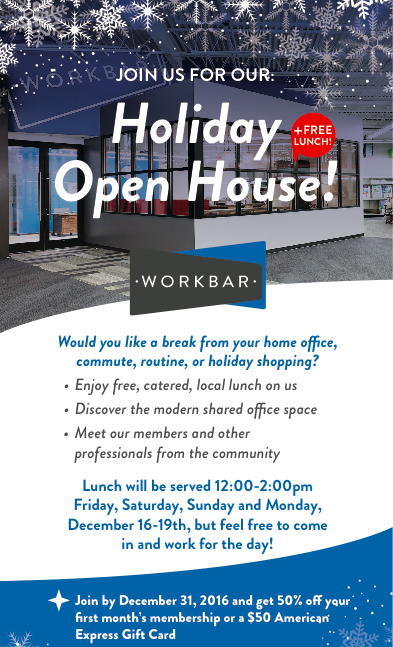 About Workbar:
Workbar operates coworking locations throughout greater Boston (Boston Back Bay, Boston South Station, Burlington, Cambridge, Arlington, Brighton, Danvers, Norwood, Salem) and several other partner locations throughout the state. Want to keep up with the world of Workbar? Subscribe to our mailing list for the most up-to-date information about our upcoming events and community news. You can also follow us on Instagram, Facebook, LinkedIn and Twitter.