4 Tips on How to Pitch a Reporter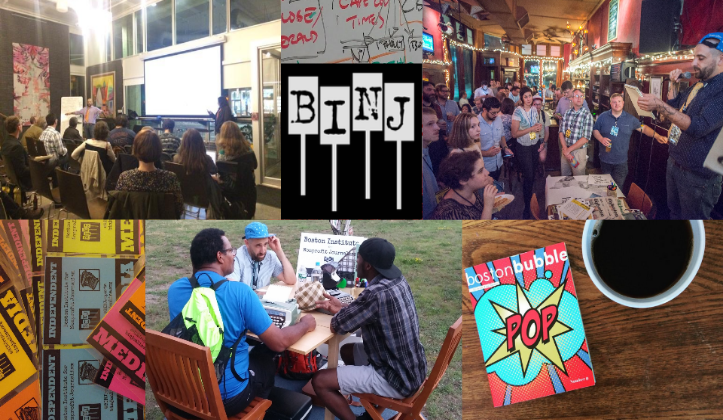 The pen is powerless without an audience. Matching media outlet to story idea is a critical skill for startups, and the subject of the Boston Institute for Nonprofit Journalism's crash course, "Pitches & Pitchers." BINJ traced the path of a successful pitch through the journalistic ecosystem Wednesday night at Workbar, dishing an insider's perspective on getting published.
As gatekeepers of powerful information, the BINJ perspective on pitching is like priceless advice from your crush's best friend. In a nutshell, startups should find their media outlet, craft a pitch, then follow up. This blueprint of "How to Pitch a Reporter" was the main thrust of the talk, but the dance between pitcher and publication is far more than a business transaction. BINJ founder Chris Faraone led off the night with one of his more emphatic points: "Everything we are talking about tonight is about building relationships."
1. IDENTIFY YOUR TARGET
Identifying the right media opportunity means picking the right person at the right publication. Here is where a little legwork separates the successful from the lazy. "There's like 40 cat magazines out there, and Cat Fancy is just the tip of the iceberg," Faraone half-joked before breaking down an approach. "Pitch something in ten different ways. The founder of your company- Where'd they go to school? Do they have an alumni magazine? Most people never think about those." Stressing the importance of scouting the outlets, he suggested making a ranking, like applying for college, with dream publications, reaches, and fall-backs.
It's also important to tailor the pitch to the outlet with appropriate age, demographic, and sections for your product. He continued, "It's bad to get a story we just wouldn't cover, but it's also bad to get a good pitch in a way we wouldn't cover it. The pitcher should go online to see what the publication is covering." While the best pitches were wedded to the theme and tone of the target publication, he offered that the savvy pitcher could even give (and get) a little flexibility. "You can shoehorn something in. Find an angle to get it in there.
"Then, instead of emailing everybody on the masthead, better to email ten people you have a relationship with."
2. FORM A RELATIONSHIP
So, how does one go about building this kind of relationship from scratch? And should you seek out an editor or a reporter?
BINJ Projects Coordinator Emily Hopkins weighed in, "It's probably better to go to the reporter and have them sell the story to the editor. We are not hard to find. We're out all the time."
"We are egomaniacs," confessed Faraone. "We like seeing our name in the paper." Then he suggested following the "rule of seven," borrowed from classic salesmanship. "No deal is ever happening until there have been seven interactions. Handshake, that's one. Follow on Instagram, two. Get followed back, three. See them at an event…" Steered away from a shotgun approach to blast emails, young startups were encouraged to engage with publications more personally.
"Instead of sending your pitch far away, send it to the local guy they have in your city. How do you know this? Well, do your homework. 'Stringer.' It's another name for freelancers, but all big publications have people in Boston. Now you need to find out who edits these sections- email, find out in a million ways."
Though not a word had been said yet about the content of the pitch, there was some good news. "You are now 80% of the way there, seriously."
3. CAREFUL WITH THE SUBJECT LINE
Call or email? BINJ says email.
Thus we broach the subject of subject lines. As email's way of making a first impression, some of the worst ones stick out like hangnails in a handshake. They say nothing and pretend like they're important, or they've gone sneaky by faking the look of a reply email, typing "RE:" in the subject line manually. Unanimous opinion ranked this move low enough to cast doubt on one's soul.
For best results, pitches should borrow a trick from paper newspapers: putting the biggest news "above the fold." If you can focus the most attention-grabbing bit into a subject line that doesn't break, you've written a good subject line. Cliffhangers and "time sensitive" subject lines were like informational hail-Marys that absolutely needed to deliver, else fail completely. The bottom line: make your subject line enticing, but honest.
4. THE ACTUAL PITCH
Don't pretend to be a journalist. "Fake content and pilfered writing" are as loathed as they are easily spotted. Instead, Hopkins suggested a different approach.
"Better to do it short and sweet. Distill it. Use bullet points, and have a maximum of 200 words. If you have more, use links or an attachment." Within this context, she recommended establishing the tone and newsworthiness of the product. A savvy pitcher should get familiar with the target publication's editorial calendar and past articles. To know where your pitch might fit, find out what has been covered recently, and what's on tap. Anything less than a sincerely researched pitch will be promptly sniffed out as a waste of time.
"If you take nothing else out of this session," she wrapped up, "it's that you should think like a publisher."
About the Author: Dave Gentry is a fan of progress and recess. He believes in old English, new fortune cookies and he answers to #davertido.
About Workbar:
Workbar operates coworking locations throughout greater Boston (Boston Back Bay, Boston South Station, Burlington, Cambridge, Arlington, Brighton, Danvers, Norwood, Salem) and several other partner locations throughout the state. Want to keep up with the world of Workbar? Subscribe to our mailing list for the most up-to-date information about our upcoming events and community news. You can also follow us on Instagram, Facebook, LinkedIn and Twitter.