Meet the 7 FinTech Startups at the DCU Center of Excellence in Financial Services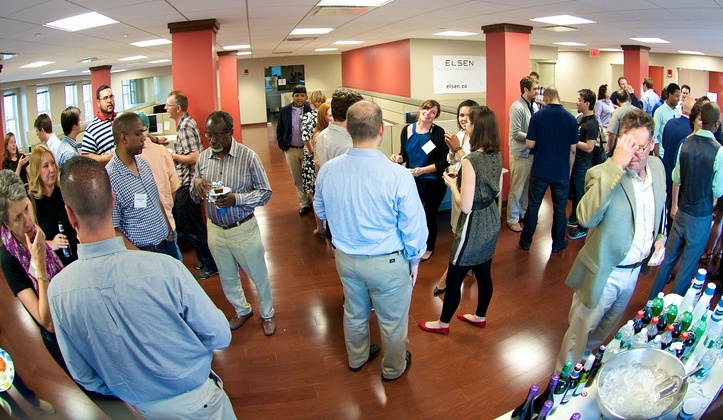 After an inaugural year of hosting and helping to launch 4 finance sector startup companies, Workbar's partner location, the DCU Center of Excellence in Financial Services (DCU CoE) welcomed 7 new fintech startups to work, learn, and collaborate in the fintech-focused coworking space at the beginning of June.
Located at 695 Atlantic Avenue in Boston, just one block from Workbar's Boston location, the DCU CoE offers financial services startups a home base and deep support, from mentorship to networking to customer access and beta testing from DCU's leadership and networks. By supporting startups, DCU hopes to encourage more innovation in Boston's financial marketplace while giving back to emerging fintech companies.
The seven fintech startups currently working in the space represent diverse areas of Boston's fintech community, including financial education, crowdsourced investment, international currency exchange, and investment technology. Now, the space is accepting applications for its September cohort, which will intentionally overlap with the more veteran members of the space.
In 2014, the DCU CoE saw 4 startups grow in the space, including Elsen, Stock Rover, Blueleaf, and Trotter (formerly Socrex). Elsen, a platform for investors, raised $400K this winter and moved into their own office within walking distance of the DCU CoE, and plans for fast growth. CEO and Founder Zac Sheffer brought Elsen to the DCU CoE to "learn from seasoned professionals at DCU and have a chance to connect with peer startups for ideas and inspiration. In our time at the DCU CoE, we were able to build strong relationships with the other startups in the space, and bring Elsen closer to where we'd like it to go." Though Elsen has moved on, the team remains connected to the Workbar Network as an office space host to other Workbar members.
"We love to see companies like Elsen succeed. Their success is our success and they exceeded every expectation we had when we launched this venture," says David Araujo, VP of Information Systems at DCU and Director of the DCU CoE. In year two, the DCU CoE has sharpened its programming for startups to focus on relationship building and knowledge sharing with DCU staff and amongst companies at the CoE. "Startups at the CoE are sophisticated enough to know exactly who within DCU they need to meet to take the right steps forward. This year, we're putting special emphasis on relationship building with relevant department heads within DCU, so that startups will find maximum value."
"To have the support of an industry leader like DCU is a huge leg up for the startups within the Workbar community," says Workbar's CEO and Founder Bill Jacobson. "We are thrilled at the success of the first year's participants and look forward to seeing the next seven DCU CoE companies thrive."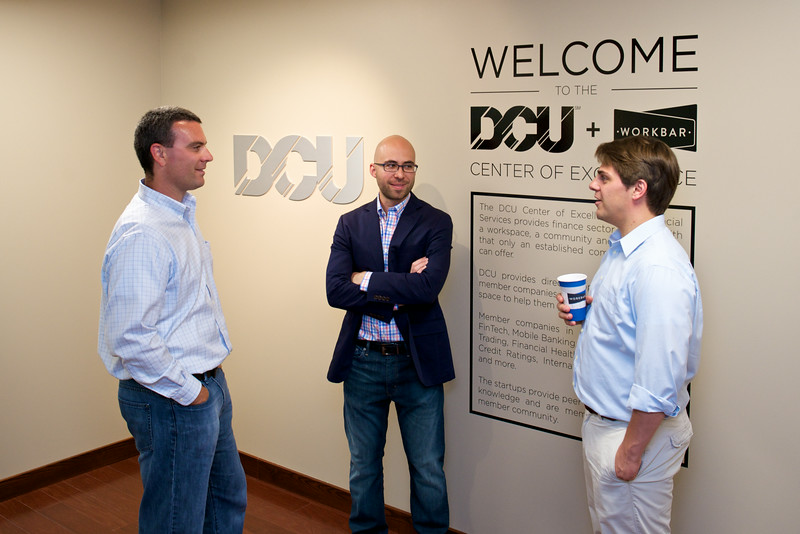 Ideal candidates to participate in the DCU CoE are innovators planning for growth in the financial services industries of mobile payments and technology, lending, and financial education. The 7 new startups that have begun operations at the DCU CoE include:
AlphaPack helps individuals design data-driven investment portfolios. Comprehensive personalization and customizability of our solutions set us apart. Our proprietary optimization algorithm integrates every aspect of clients' financial situations, existing investments, values and beliefs. Intuitive UX enables users to customize all aspects of the optimization and through behavioral finance and transaction data, we help clients manage their portfolio on an on-going basis. AlphaPack recently participated in the AdClub Brandathon and was listed as a fintech startup to watch in the Boston Business Journal.
Arbitrage Ed creates financial education for individuals to freely learn about personal finance and investing. Whether interested in investing, or trying to develop personal financial stability, Arbitrage Ed can help with a thorough education on numerous topics helpful to both situations.
Bullseye is a mobile application that makes it easy for you to evaluate investment opportunities with people you actually know and trust. By integrating your investments with a private group chat experience, Bullseye surfaces new ideas for the group allowing users to make informed investment decisions - whether that be with friends, colleagues or even financial professionals. They are currently in a private beta and testing with select universities around the country.
Collective Capital, a real estate investment firm, raises capital via the Internet for real estate deals that have been analyzed and vetted by the company's proprietary algorithms. The firm is committed to utilizing sophisticated analytics to evaluate properties on a risk-adjusted basis and make informed real estate investments through their website.
CurrencyDoc issues multi-currency prepaid cards that are powered by a mobile app. The cards can be used internationally at merchants or at ATMs worldwide. The company uses peer-to-peer technology to match users with opposite currency needs and makes the process of exchanging currency convenient, transparent, and economical.
Katapal helps small and medium size businesses raise capital and attract new customers. Instead of using traditional debt and equity, they are building a platform using store credits as a financial instrument. Katapal will help businesses issue store credits to raise capital from investors and consumers, and will provide a liquid secondary market where those store credits can be resold.
QuantUniversity is an analytics advisory and provides strategic solutions and executive education to help their clients build better business quantitative models in the financial industry. They provide model risk assessments, evaluations, reviews and recommendations to meet the needs of regulatory and stress testing in risk management. In addition, QuantUniversity is building a platform leveraging big data, distributed computing and machine learning technologies.
The DCU CoE offers mentorship and support to its members along with 24/7 access, wifi, free coffee, conference and phone rooms, and flexible or dedicated seating. Additionally, all members in the space receive part time membership to Workbar's coworking network and community of over 800 professionals.
Applications for the fall are now being accepted through August 21st to bring in an additional 5 to 6 fintech startups for a September 1st start date. For more information and to apply, visit info.workbar.com/fintech.

About Workbar:
Workbar operates coworking locations throughout greater Boston (Boston Back Bay, Boston South Station, Burlington, Cambridge, Arlington, Brighton, Danvers, Norwood, Salem) and several other partner locations throughout the state. Want to keep up with the world of Workbar? Subscribe to our mailing list for the most up-to-date information about our upcoming events and community news. You can also follow us on Instagram, Facebook, LinkedIn and Twitter.