Drones: The Future of Architecture, Sustainability, and Resiliency?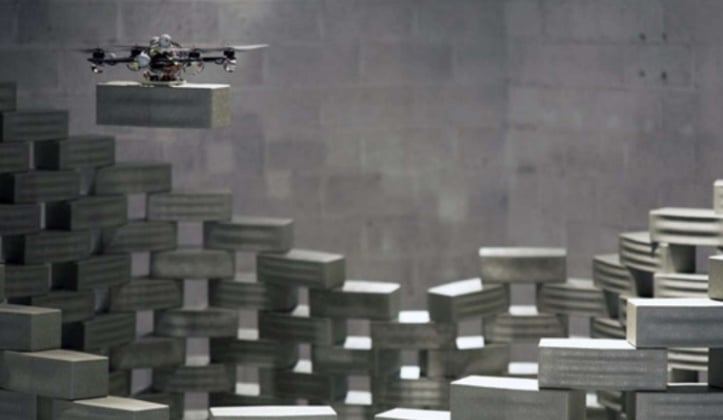 The following post was written by architect, sustainability expert and Workbar Cambridge member Shawn Hesse. This article was originally posted on the emersion Design blog.
Over the last year or so, we've been seeing construction progress photos coming into our office from our contractors in the field that have been taken with the use of drones. They allow us to monitor field conditions from vantage points that would otherwise be difficult to achieve - for example, allowing us to see roof details that would have required a ladder and someone to climb up on the roof with a camera. But the full impact of the use of drones in architecture didn't spark for me until I saw this video posted on Dezeen about a month ago.
The video shows the construction of an undulating stacked brick sculpture built entirely by computer programmed drones to precisely stack each block. That project was completed in 2012. The same team also produced this video demonstrating the ability of multiple drones to collaborate and build tensile structures in mid-air.
Previously, I imagined the use of drones as a great way to photograph existing conditions and perform up close structural inspections on bridges and towers. This technique would greatly speed up inspections, but also improve the safety of workers (eliminating the need for an individual to climb to a precarious location just to take a photo). But photography is clearly just the first step for this technology. The idea of using drones as part of the physical labor made me start to question the role of drones in sustainability and resiliency efforts.
For starters, from a sustainability perspective, Treehugger ran a story recently about using drones to reforest 1 billion trees per year. According to Environmental Leader, drone technology is also being used to detect leaks in gas and oil pipelines, and NOAA scientists are using drone technology to take air sample measurements in remote, sensitive, and hard to access habitats to further climate change research.
The recent tragedies in Nepal, and even in Philadelphia seem like a natural fit for use of drone technology to assist in search and rescue. Heat sensitive or infrared cameras can speed first responders and rescue workers in finding survivors. The idea that drones could quickly and efficiently deploy sandbags to protect against flooding, or even distribute food and medical aid to remote sites all seem to be likely expansions of the technology.
The American Red Cross recently published a study outlining the many uses of drone technology in humanitarian and disaster response missions, including; "Reconnaissance and Mapping, Structural Assessment, Temporary Infrastructure / Supply Delivery, Wildfire – Detection and Extinguishing
High-Rise Building Fire Response, Chemical, Biological, Radiological, Nuclear, or Explosive (CBRNE) Event, Search and Rescue Operations, Insurance Claims Response and Risk Assessment Logistics Support"
The report also outlines the key questions underpinning all of these potential applications; the FAA's rules and regulations of drone technology use. The FAA's decisions will greatly impact the scope of this technology. So, will it be "Drones: The future of architecture, sustainability, and resiliency", or "Drones: Reserved only for use by the US military"?
About the Author: Shawn Hesse is an architect and sustainability consultant with emersion DESIGN, a collaborative architecture practice with offices in Cincinnati and Boston. Shawn regularly writes and lectures about sustainability, social justice, resiliency, and zombies, and can be reached at shawn.hesse@emersiondesign.com
About Workbar:
Workbar operates coworking locations throughout greater Boston (Boston Back Bay, Boston South Station, Burlington, Cambridge, Arlington, Brighton, Danvers, Norwood, Salem) and several other partner locations throughout the state. Want to keep up with the world of Workbar? Subscribe to our mailing list for the most up-to-date information about our upcoming events and community news. You can also follow us on Instagram, Facebook, LinkedIn and Twitter.