Anyone Know Where I Can Rent a Robot? (Yes, We Do)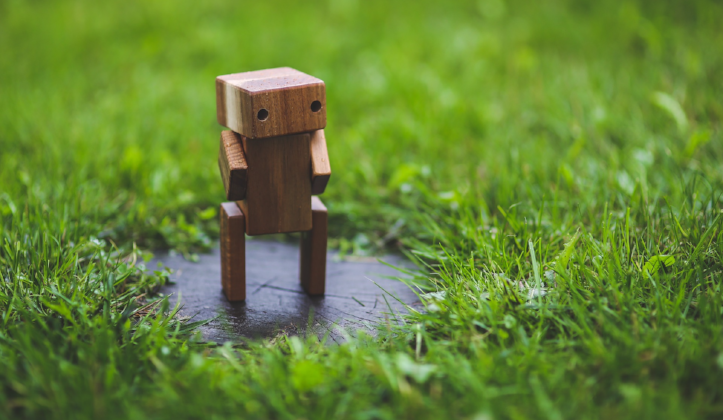 Robots = So Hot Right Now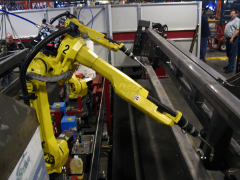 In the 1970s, robots looked like one-armed bandits and were capable of a few very specific industrial tasks. These groovy cats were confined to use in welding and on production lines.
Present-day robots help us with everything from law enforcement to medicine to entertainment, and don't always look like robots. We are living in an interesting time, when artificial intelligence, augmented reality, telecommunication, and mobile technology have positioned us for a robotics boom.
OK, so...
"Anyone know where to rent a robot?"
The question was posed through the Workbar discussion forum, and actually specified "like the one Edward Snowden uses." (As opposed to, say, the kind of robot that Will Smith had beef with in I, Robot, or the kind that joshed with Matthew McConaughey in Intergalactic.)
Turns out, there are loads of different types of robots, classified by purpose, locomotion, operation, and other factors. While humanoid robots easily (and eerily) get our attention, "It is usually a waste of time and not the most sensible thing to model a robot after a human being." They do not need to be bipedal anymore than they need hair, and many of today's working robots were designed for function, like the world's first robot cowboy, the SwagBot.
The one Edward Snowden uses is called a "telepresence robot," and creates a "physical embodiment" of a remote person with a screen projecting the face and remote-controlled gyroscopic wheels giving it mobility. Based on Emily Dreyfuss' Wired article, "My Life as a Robot," using one can be both helpful and a little weird. This was the kind of robot the Workbar member was after.
So Where Can I Rent One?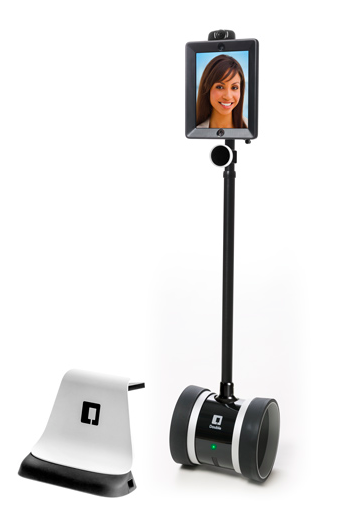 It turns out that quite few people did know where to rent a telepresence robot, and contributed enough responses to paint a pretty well-rounded picture of the robot-renting scene in the Greater Boston Area.
Based on the depth and breadth of members' experience, what follows is likely the definitive list of places to rent a telepresence robot in Boston (only Splinch is actually local, the rest ship a robot to you). #teamwork
Splinch

appears to be the only Boston-area startup to rent out this type of robot. Their website is in beta, but they are able to help you rent some very useful gear. Their phone and

email

work just fine, and when contacted they had some telepresence robots ready to roll. In their own words,

"We deliver and setup telepresence robot at the venue of your event in United States for $250 so that you can have a physical presence at the event when you can't be there in person due to time, money, immigration or mobility constraints."

Event Presence is a Santa Clara-based company that promotes their brand of telepresence technology called The Beam. According to Event Presence, The Beam is "a revolutionary telepresence system that combines mobility and video conferencing to deliver an immersive communication experience for the user." Obama communicated with Alice Wong, Disability Visibility Project founder, through one of these in the Oval Office, so you know its good. To save you digging, their phone and email: 408.859.1003 and se@epbeam.com
Technology One has a telepresence solution they call The Double, which is available for rent in all of the lower 48 states, in less than 48 hours. Hawaii and Alaska are missing out on this ready-to-roll robot that includes iPads, training and support. Optional add-ons include branding, staff, and remote presence equipment.
NMR Events focuses on interactive and touch-screen AV staging services. They do have offices across the country, and might provide a less robotic solution to remote conferencing.
Until teleportation allows you to beam yourself to a distant meeting, these telepresence robots can be the next best thing. Expect to pay between $250 and $500 for the rental, and between $50 to $500 for shipping. If you'd like more details on using this kind of robot to set up a remote Skype office, check out this article from The Verge.
About the Authors:
Drew Wallace: when he's not directing web-traffic, this marketing guru and Hubspot alum can be found near his wife's gigs, his son's inventions, and stones un-turned.
Dave Gentry is a fan of progress and recess. He believes in Olde English, new fortune cookies, and he answers to #davertido.
About Workbar:
Workbar operates coworking locations throughout greater Boston (Boston Back Bay, Boston South Station, Burlington, Cambridge, Arlington, Brighton, Danvers, Norwood, Salem) and several other partner locations throughout the state. Want to keep up with the world of Workbar? Subscribe to our mailing list for the most up-to-date information about our upcoming events and community news. You can also follow us on Instagram, Facebook, LinkedIn and Twitter.